Anchor Types
Designs of Small Craft Anchors.

A modern temporary anchor usually consists of a central bar called the shank, and an armature with some form of flat surface (fluke or palm) to grip the bottom and a point to assist penetration of the bottom; the position at which the armature is attached to the shank is called the crown, and the shank is usually fitted with a ring or shackle to attach it to the cable. There are many variations and additions to these basic elements-for example, the whole class of anchors which include a stock such as the fisherman and fluke anchors.
The range of designs is wide, but there are actually trends in designs for modern anchors which allow them to be classed as hook, plough, and fluke types, depending on the method by which they set.
* Hook designs use a relatively small fluke surface on a heavy, narrow arm to penetrate deeply into problematic bottoms such as rocky, heavy kelp or eel grass, coral, or hard sand. Two of the more common versions of this design are the fisherman and the grapnel.
* Plough designs are reminiscent of the antique farm plough, and are designed to bury themselves in the bottom as force is applied to them, and are considered good in most bottom conditions from soft mud to rock. North sea designs are actually a variation of a plough in how they work; they bury into the bottom using their shape.
* Fluke designs use large fluke surfaces to develop very large resistance to loads once they dig into the seabed. Although they have less ability to penetrate and are designed to reset rather than turn, their light weight makes them very popular.
In the past 20 years or so, many new anchor designs have appeared. Driven by the popularity of private pleasure boats, these anchors are usually designed for small to medium sized vessels, and are usually not appropriate for large ships. See modern designs.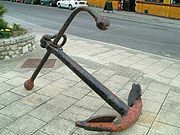 Fisherman
A traditional design, the fisherman, also known as a kedge (not be confused with a modern-day light kedge anchor), is the most familiar among non-sailors. The design is a non-burying type, with one arm penetrating the seabed and the other standing proud. The anchor is ancient in design and has not changed substantially over time. It has a good reputation for use in rock, kelp, and grass, but is unlikely to be any more effective than a good modern design and its holding power to weight ratio is among the worst of all anchor types. Three piece versions can be stowed quite compactly, and most versions include a folding stock so the anchor may be stowed flat on deck.
The primary weakness of the design is its ability to foul the cable over changing tides. Once fouled the anchor is likely to drag. In comparison tests the fisherman design developed much less resistance than other anchors of similar weight. It is difficult to bring aboard without scarring the topsides, and does not stow in a hawse pipe or over an anchor roller. A fouled kedge or killick features on the badges of Royal Navy non-commissioned officers.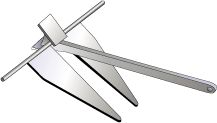 Fluke
The most common commercial brand is the Danforth, which is sometimes used as a generic name for the class. The fluke style uses a stock at the crown to which two large flat surfaces are attached. The stock is hinged so the flukes can orient toward the bottom (and on some designs may be adjusted for an optimal angle depending on the bottom type). The design is a burying variety, and once well set can develop an amazing amount of resistance. Its light weight and compact flat design make it easy to retrieve and relatively easy to store; some anchor rollers and hawse pipes can accommodate a fluke-style anchor. A few high-performance designs are available, such as the Fortress, which are lighter in weight for a given area and in tests have shown better than average results. See further articles for this authors long experience with Fortress anchors.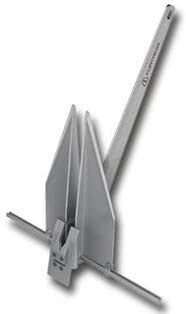 Fortress, Ultra Lightweight
Sold in the US as a main anchor, but in crowded European waters is actually far more use as a kedge..it can be deployed from the dinghy with ease.
The fluke anchor has difficulty penetrating kelp and weed-covered bottoms, as well as rocky and particularly hard sand or clay bottoms. If there is much current or the vessel is moving while dropping the anchor it may "kite" or "skate" over the bottom due to the large fluke area acting as a sail or wing. Once set, the anchor tends to break out and reset when the direction of force changes dramatically, such as with the changing tide, and on some occasions it might not reset but instead drag.
Grapnel
A traditional design, the grapnel style is simple to design and build. It has a benefit in that no matter how it reaches the bottom one or more tines will be aimed to set. The design is a non-burying variety, with one or more tines digging in and the remainder above the seabed. In coral it is often able to set quickly by hooking into the structure, but may be more difficult to retrieve. A grapnel is often quite light, and may have additional uses as a tool to recover gear lost overboard; its weight also makes it relatively easy to bring aboard.
Grapnels rarely have enough fluke area to develop much hold in sand, clay, or mud. It is not unknown for the anchor to foul on its own rode, or to foul the tines with refuse from the bottom, preventing it from digging in. On the other hand, it is quite possible for this anchor to find such a good hook that, without a trip line, it is impossible to retrieve. The shape is generally not very compact, and is difficult to stow, although there are a few collapsing designs available.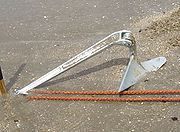 CQR/Plough
So named due to its resemblance to a traditional agricultural plough (or more specifically two ploughshares), many manufacturers produce a plough-style design, all based on or direct copies of the original CQR (Secure), a 1933 design by mathematician Geoffrey Ingram Taylor.[1] Owing to a now well established history, ploughs are particularly popular with cruising sailors and other private boaters. They are generally good in all bottoms, but not exceptional in any. The CQR design has a hinged shank, allowing the anchor to turn with direction changes rather than breaking out, and also arranged to force the point of the plough into the bottom if the anchor lands on its side. Another more recent commercial design, the Delta uses an unhinged shank and a plough with specific angles to develop slightly superior performance. Both can be stored in most regular anchor roller systems.
Owing to the use of lead or other dedicated tip-weight, the plough is heavier than average for the amount of resistance developed, and may take a slightly longer pull to set thoroughly. It cannot be stored in a hawse pipe.
The genuine CQR and Delta brands are now owned by Lewmar, although they have both been on-sold several times during their lifetimes.
Bruce/Claw
This claw shaped anchor was designed by Peter Bruce from the Isle of Man in the 1970s. Bruce gained its early reputation from the production of large scale commercial anchors for ships and fixed installations such as oil rigs in the North Sea. The Bruce and its copies, known generically as "claws", have become a popular option for smaller boaters. It was intended to address some of the problems of the only general-purpose option then available, the plough. Claw-types set quickly in most seabeds and although not an articulated design, they have the reputation of not breaking out with tide or wind changes, instead slowly turning in the bottom to align with the force.
Claw types have difficulty penetrating weedy bottoms and grass. They offer a fairly low holding power to weight ratio and generally have to be over-sized to compete with other types. On the other hand they perform relatively well with low rode scopes and set fairly reliably. They cannot be used with hawse pipes.
Bruce Anchor Group no longer produces the genuine Bruce, although other companies manufacture copies.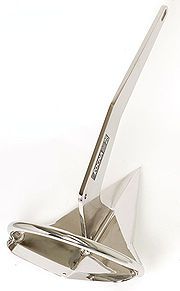 Modern designs

In recent years there has been something of a spurt in anchor design. Primarily designed to set very quickly, then generate high holding power, these anchors (mostly proprietary inventions still under patent) are finding homes with users of small to medium sized vessels.
* The German designed Bügel (or Wasi) has a sharp tip for penetrating weed, and features a roll-bar which allows the correct setting attitude to be achieved without the need for extra weight to be inserted into the tip.
* The Bulwagga is a unique design featuring three flukes instead of the usual two. It has performed well in tests by independent sources such as American boating magazine Practical Sailor.
* The Spade is a French design which has proved successful since 1996. It features a demountable shank and the choice of galvanized steel, stainless steel, or aluminium construction, which means a lighter and more easily stowable anchor.
* The New Zealand designed Rocna has been produced since 2004. It too features a sharp toe like the Bügel for penetrating weed and grass, sets quickly , and has a particularly large fluke area. Its roll-bar is also similar to that of the Bügel. The Rocna obtained the highest averaged holding power in SAIL magazine's comparison testing in 2006.

The text on this ANCHOR TYPES page is covered by the following licence

http://en.wikipedia.org/wiki/Wikipedia:Text_of_the_GNU_Free_Documentation_License