Top ten tips for buying a yacht
Buying a new yacht is a big decision. Whether buying new or second hand, power or sail, the initial outlay and on going costs will no doubt make it one of your biggest and most important investment decisions ever!
The process should be an exciting and fulfilling experience. The satisfaction and pride of owning your own vessel can be wonderful, and the new addition can bring unparalleled opportunities for adventure and fun.
Pete Green is the director of Halcyon Yachts Ltd, a dedicated yacht delivery firm. With over 20 years of experience in the yachting industry he is well placed to offer advice and information about the process of buying a new boat.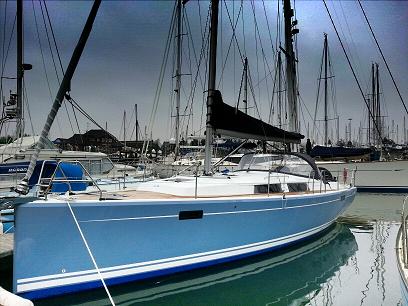 Here are his top ten tips for buying a boat:
The type of boat
The first thing to decide is what type of boat you would like to buy. My advice is to consider what you want to achieve with your vessel and how you think you will use it… Will you race or cruise? Will you day sail or stay on board for many days? Will you use it on rivers and lakes or will you do long ocean passages? Once you have decided exactly what you want your boat to do for you, you can start to shop around to see which types will achieve your demands best.
What can you afford
Once you have decided the type of boat you want you must decide the budget you wish to allocate. A boat is not just the initial purchase price. Consider storage, maintenance and running costs. Research this well as you do not want to be in a situation where your boat is sucking your wallet dry! I recommend that you allow for an unexpected expenditure – so have enough left over to be able to cover the cost of a new engine or a set of sails for example… As a rough rule of thumb your boat will likely cost you at least 10% of the purchase price every year in maintenance and storage.
Where to find the ideal boat
Once you have established exactly what you want and how much you are willing to spend it is time to find the ideal boat. Nowadays the internet is the obvious first choice for many of us. Most brokers advertise online and sites such as http://www.boatsandoutboards.co.uk/, http://www.apolloduck.co.uk/ and http://www.yachtworld.co.uk/ offer thousands of boats for sale both privately and from brokers. Yachting magazines, newspapers and yacht club notice boards are also useful sources. An increasing number of boats are also sold on ebay – but make sure you follow my next tip before you commit to buy!
Look at and try out the boat
It may sound silly, but you would be surprised at how many people buy boats without viewing them first. We highly recommended that you not only view the boat but you try it out too. Buying a boat is a great opportunity to go and try before you buy. It is a big decision and any understanding owner or broker will be delighted to take you out for a test sail. You will also gauge how well the boat has been cared for by meeting the previous owners…
Assess the condition
Buying a boat can be a bit like buying a house, and some insurance companies will not insure a vessel without fully understanding the condition of the boat they are insuring. To this end and for your own peace of mind we highly recommend that a professional survey is conducted. This will help with insurance and will also point out potential maintenance issues. A good surveyor should also make recommendations for additional safety equipment. A survey can also be very useful when negotiating on price.
Draw up a contract
Although not strictly required by law, we highly recommend that a written sale and purchase agreement is used on all boat purchases. Organisations such as the RYA http://www.rya.org.uk/ offer a standard form of agreement that could be used. A professional broker will use either the British Marine Federation http://www.britishmarine.co.uk/ or Association of Brokers and yacht agents' http://www.abya.co.uk/ contract. This not only sets out the duties and rights of the buyer and seller but also the broker who is acting on behalf of both parties. Having the correct paperwork will help if any disagreement occurs.
Secure the purchase with a deposit
As the purchaser a deposit can act as security and prevent the seller from selling the boat to anyone else. If buying from a broker then the deposit must be paid into a bona fide and designated client account. The yacht broker should also be willing to provide evidence from their bank as to the status of the account that the funds are being paid into.
Check the documentation and VAT status
Before committing to buy, or indeed spending any money on a survey, I recommend that you check all of the appropriate title documents and proof of ownership. If these are unavailable at a later stage it can not only hold up completion of the sale but in some cases will cause the sale not to complete. A reputable yacht broker will always provide advice and guidance on what documentation is required for any particular vessel.
Check the VAT status of the vessel. If the boat was built after 1985 then the best way to show this is to have the original VAT paid invoice. If you are uncertain then speak to a professional broker who will be able to give you advice on the documentation required. I recommend that if you cannot confirm the VAT status of the vessel then you should look elsewhere – you will risk major issues and complications if you ever try to sell it in the future.
Completion
This will occur once the survey has been concluded and any negotiations due to defects dealt with and agreed. Completion involves the final transfer of the outstanding balance of and the simultaneous handover of the 'title documents' of the boat. You should receive the Bills of Sale going back at least 5 years, Certificate of Registry (if registered), proof of VAT status and proof of RCD compliance if required. A professional broker will normally talk you through all of the documentation they have available and will send these to you once completion has taken place. I highly recommend that these documents are kept in a safe place as they cannot be easily replaced.
Enjoy your boat!!!
Make time to really enjoy your boat and get the best from it. I recommend that private tuition on board your own boat can be one of the best ways to improve your skills and confidence. Plan lots of trips and try to use the vessel for what it was intended. Join a yacht club and get involved with social activities and cruises. Invite family and friends to join you and share in the wonders of being out on the water!!!
Halcyon Yachts Ltd is a dedicated international yacht delivery specialist with highly experienced and qualified crew. For more information or to see details of their recent deliveries please visit :