AIS and NMEA multiplex equipment under £100 !
Note from VMH... We've been getting very good reports about the equipment from Quark-Elec from customers using our Unified Charts in Windows, and now our Android charts running in the new AIS comaptible Marine Navigator app. So here's some information for those who want to intergrate instruments and/or AIS:

AIS Receivers from Quark-Elec

UK based Quark-Elec is rapidly becoming the go-to name in economical AIS equipment offering a wide range of 'plug and play' receivers, plus a SeaTalk conversion Multiplexer and a Garmin Bridge Converter. A relative newcomer to this arena, our receivers' performance is catching up with the big hitters but they remain reasonably priced by comparison, because we believe safety should be affordable. With Wi-Fi access on many models, it has never been easier to be in control from wherever you are on board.
AIS is a convenience which is becoming a necessity. As a part of the safety suite of your small vessel it cannot be overstated how useful having AIS can be. Although not yet mandatory, it is a natural partner to GPS and other navigation aids to augment your perception of the water traffic around you. In increasingly crowded waters, it is easy to stray into shipping lanes, with AIS it will be that much easier to stay out of danger. With our conversion options it is now a breeze to integrate a Quark-Elec AIS receiver with 40nm+ range into your current set-up.


Multiplexer: Get your shipboard stuff working with PCs and Tablets
Complementary to our receivers we have the QK-A031 Multiplexer. Fully configurable and able to operate in Station (AP) or Ad Hoc (peer2peer) modes, it features a Seatalk to NMEA 0183 converter and outputs to WiFi and USB simultaneously.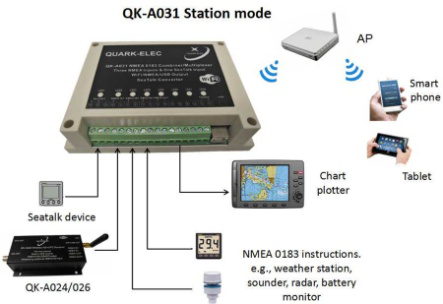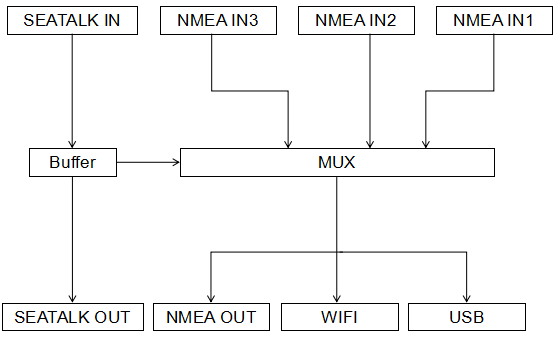 .
.
,
,
.
.
,
.
.
.
More info: Click Here Buy it: £94.79
Our Garmin Bridge unit does exactly what it says on the label, enabling Quark-Elec AIS receivers to directly interface with Garmin Plotters. This has been one of the most requested widgets by our customers and we were happy to oblige them and develop it.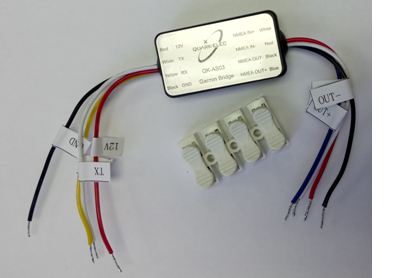 More info: Click HERE Buy it £ 11.99
Entry level AIS, with USB connection for PCs Mac and Linux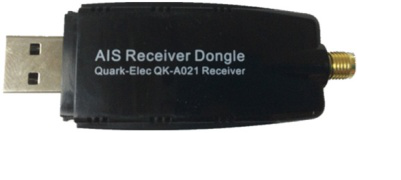 The A021 is a dongle about the same size as a large memory stick, and slots straight into the USB port on your PC. An ultra-portable entry-level solution whichis simple to install and use:
More Info: Clic k HERE Buy for £ 40.79
.
.
.
.
.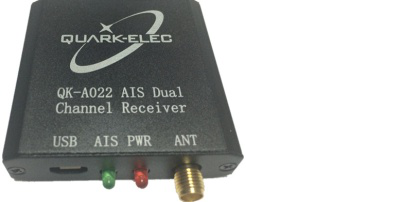 The A022 and 23 are around 2" across (5cm) and less than ½" tall (1cm approx) so all three can be slipped into a pocket and taken anywhere and connected in the field. (Is it still a field if it is on water?). QK-A022 is Dual Channel and connects with a micro-USB cable.
.
.
.
.
.
..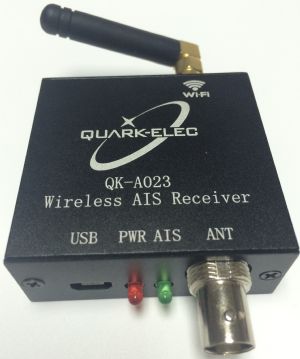 QK-A023 (pictured alongside) is channel hopping and has WiFi.
More info Click HERE
This is the entry level receiver for those using Marine Navigator app
.
,
,
,
,
,
The A024 (£52.79) + the A026 (£94.79) are a little larger, but still very portable at 12 x 3 x 5 cm. All are straightforward to integrate into your systems. All but the A021 come in sturdy aluminium enclosures and the A024/6 has fixing holes for permanent positioning. A VHF antenna and magnetic base with 4m cable is also available.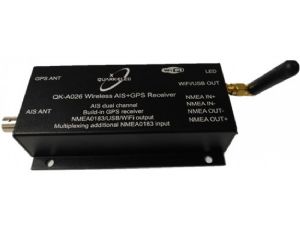 This unit is the VMH pick for those using their PC/Mac as a chartplotter, and need GPS and AIS inputs
The A026 has a built in GPS receiver as well as dual channel AIS.
At £94.79 this unit can provide WiFi or USB outputs, so can also send NMEA to tablets using Marine Navigator.
More Info: Click HERE
More information about all models Click HERE
Comparison Chart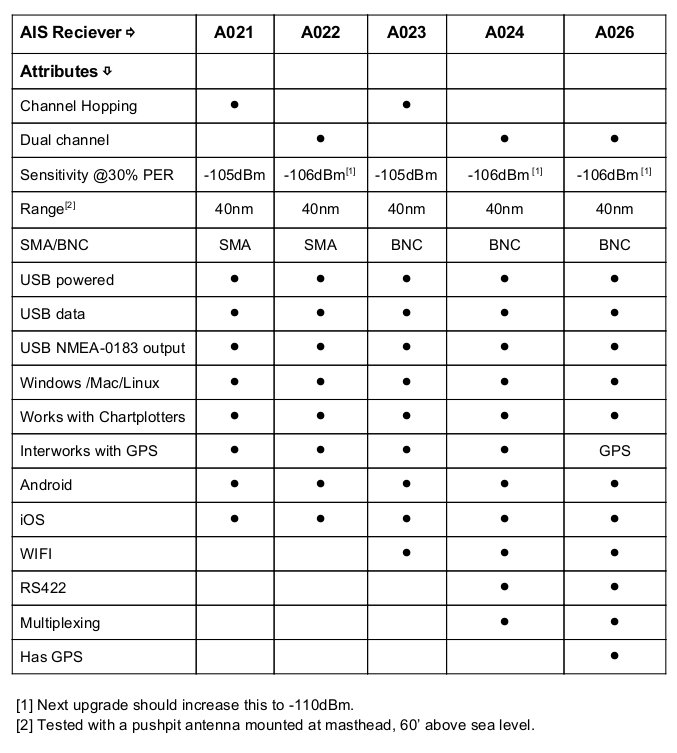 This handy chart summarises the specifications of the various models of receiver. Technical data on all models as well as the QK-A031 Multiplexer and AS03 Garmin Bridge are available on our website
The choice is yours! The very economical option of the A021 is a chance to dip a toe in the water at an entry-level price point; more features are added as you go up the range and are priced accordingly but if you already know you need the sophistication of the A026 it is also competitively priced.
We sell worldwide and have satisfied customers from San Fransico and Singapore to Southampton. We strive to provide customer service that helps our products stand out in the marketplace and we welcome feedback and suggestions from our customers; it drives much of our development, so get in touch!
You can find more detailed information on our AIS Receivers at:
https://www.quark-elec.com/marine-electronics
at the end of the product description there is a link which will take you to the Application Notes (User Manual).
If you have technical questions please leave a comment on the forum - we check it regularly and it's often the quickest way to get an answer:
https://www.quark-elec.com/forum/
Or join the community at Facebook or Twitter;
Here are some of the things people have said about us and our AIS Receivers:


bu
Fantastic product A026
Jan. 30, 2017
I stumbled across this product while searching for ways to get AIS into OpenCPN with my Raspberry Pi. Not only does this provide AIS, but also GPS and connects to. NMEA 183 and routes that on wirelessly! I can't believe it's all there for a phenomenal price.
Glen, Denmark



Excellent receiver
Feb. 26, 2017
Bought this unit at my first attempt of receiving AIS broadcasts. I was on the lookout for a dedicated dual channel AIS receiver of good quality and reasonable cost. I was not disappointed. Excellent service and fast delivery. The unit works perfectly.
Alan, USA



Great product, works fine, excellent experience!
Feb. 20, 2017
Great product, works fine, excellent experience, we see important ships information and at moment works very well.
Shipping with no delay and client support works great.
Thanks guys.
Miguel, Portugal




Fantastic receiver. Almost as good as shipboard.
Nov. 16, 2016
I was so surprised at its size, especially for a dual channel receiver. The sensitivity and selectivity are excellent. Channel selection is automatic, no operator intervention required, it is truly plug and play. The performance of this receiver makes it worth at least 3 times the price.
viper15
Tampa Bay, FL
USA



AIS receiver QK-A023
Jan. 13, 2017
I am absolutely satisfied with the QK-A023 so far.
It was easy to install and to integrate into OpenCPN . Both connections, USB and Wireless, worked seamless and without any problems.
I have only tested the receiver at home which is a few kilometer away from the next ships but even with a home brew VHF emergency antenna the reception was brilliant. I could see every ship that was announced by marinetraffic.com. I am looking forward for the new sailing season to use the device on my boat.
Brilliant product!
Lars, Germany




Customer Service
Funny is that they want to be really involved with their product and would like feedback from users. There they learn from. (Translated by Google)
Frank on Scheepspraet Forum
The Netherlands