Add on AIS kit for our tablet chartplotters
Optional AIS receiver "add on" for the tablet chartplotters we sell. Adds £140 to the package price. Ideal for those who want a "turn key" solution.



This kit will add AIS capability. A great safety feature, (esp if go cross channel..which is a bit like running across a motorway !)
Everything you need is provided, and the tablets are pre-set to work with this kit. Simply install the AIS kit on your boat, turn on the tablet and you'll start getting targets if in range.
Kit consists of a Quark A24 multi channel AIS receiver, a special low noise power supply that you wire to your boats 12/24v electrics plus a VHF whip aerial and extension aerial cabling.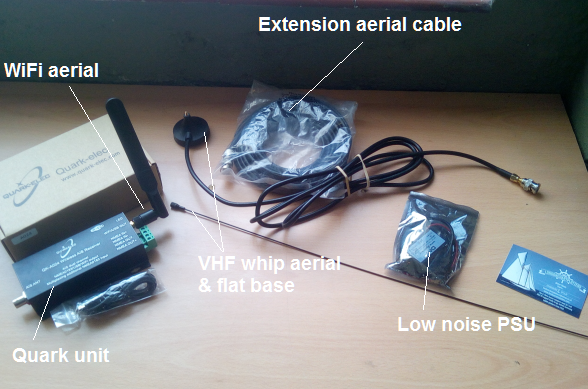 Quark A24 NMEA transmitted by WiFi to the tablet. No wires.
Low noise 12v PSU (essential to prevent spikes caused by alternator and other equipment in the boat's circuits)
Flat based VHF whip aerial & cable with 2m cable. Can be glued to any flat surface.
A 5m co-ax aerial extension lead.
Installation on the boat. Don't try and run this kit as a lash up other than testing.
Choose site for VHF aerial and fix. Makes sense to fit this in the pushpit area of the boat (or gantry if you have one), where it could also be used as an emergency aerial for your VHF radio. Does not need to be mounted high up.
Run aerial cable to location of the Quark.
Would suggest locating the Quark near the instruments in a dry location, with easy access to the wiring panel. Attach the small WiFi aerial to the Quark.
Connect the low noise power supply to boat's electrics with switch and fuse/breaker. Connect the PSU to the Quark with the micro USB cable provided.
Check it powers up when switched on, LED lights show.
That's it.
When you turn on the (matching pre-paired) VMH special tablet, you will start seeing AIS targets if in range.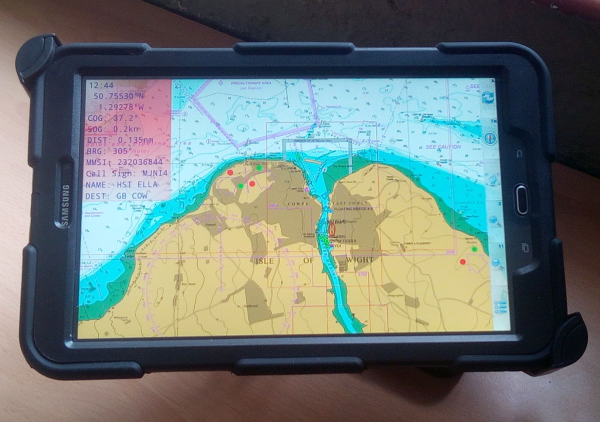 Collision alert..
This AIS kit is available with the following VMH special tablet chartplotters. Use the drop down menu to add AIS kit to the package.
Samsung SM T395 Rugged Chartplotter Tablet £199.33 With AIS kit £339.33
Samsung 10" Chartplotter £189.33 With AIS kit £329.33
Prices inc UK postage


These are covered (with the tablet) by the VMH 30 day no quibble money back guarantee, plus London Chartplotter's 6m parts and labour guarantee. Terms and Conditions