Tough, waterproof IP68 tablet-plotter (for members)
No more available .. remaining stock now pre-ordered.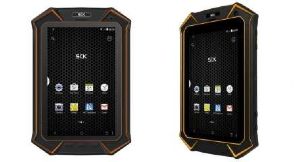 something really special...
Industrial grade Android tablet chartplotter, submersible, dustproof and droppable... IP68 certified.
7" Screen, but this is a big, heavy and very tough unit with 7000Ma/Hr battery.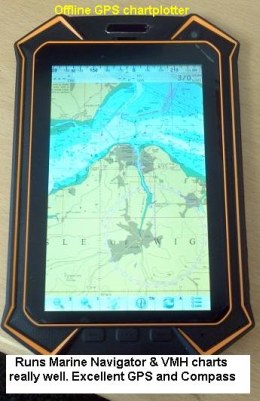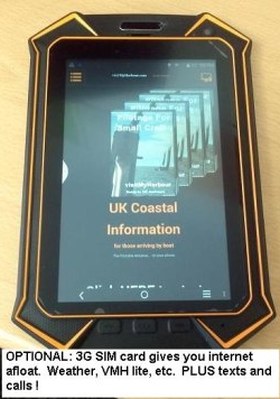 Fitted with Marine Navigator OEM (AIS compatible) app, plus our own VMH charts. Crazy price.
Perfectly suited to RIBs, Kayaks, dinghy missions, cockpit use at sea, etc
This tablet is a powerful, industrial Android tablet with a tough water, dust and shock resistant build. This is a perfect tool for chartplotter duties plus internet access and communications in marine environments.
This is a slightly dated (but power saving) Android 4.4 KitKat system run by a powerful Quad Core processor. Access the Google Play store where apps can be downloaded. Blutetooth 4.0, GPS, NFC and the ability to connect to 3G internet when a SIM is inserted all mean this tablet can keep you fully connected in coastal areas with cell phone coverage. Weather forecasts, tide times, berth bookings, etc.
This high-quality display is made with Gorilla Glass 3, for excellent durability, with an IP68 certification. Meaning it has the best possible protection from dust ingress and water damage. The tablet is fully dustproof and can be submersed in liquid for significant periods without damage. Note always rinse off seawater with fresh...
Use in daylight/sunlight. As good as any we've seen .. other than the Sony Xperia tablets (which are in a sunlight viewable class of their own) . If the sun is directly on the screen, just tilt it or position yourself between sun and tablet. Or use it under sprayhood. Semi Matte screen protector would help a lot.
This means for you:
1: Use as an OFFLINE chartplotter away from land. Excellent GPS and Compass, combined with VMH charts and the OEM version of Marine Navigator. Use in cockpit, dinghy, RIB.. or at the chart table. Nothing more needed, turn it on and use it. Get Seawater on it..give it a good rinse in fresh...
Worth noting (optional):
2: The SIM card ability (3G) allows you to get info and weather forecasts near the coasts. We put the VMH lite site on the homescreen for when you have a 3G signal (approaching harbour etc.)
3: It can also be used as a mobile phone for calls and texts. Handy for booking a berth as you approach.
The rear and front cameras, boasting 8 and 5 megapixels respectively, take great photos which will be done justice by the 7-inch HD screen. With a built-in 7000mAh Li-Ion battery, the tablet is not only sturdy but durable too, offering up to 19 hours' talk time, so it should last the whole day outdoors without needing to be recharged.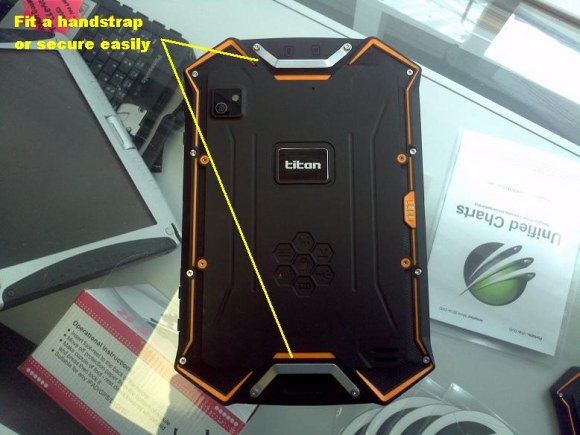 What's the story with these ?
These are brand new (but a few years old), manufacturers clearance stock.. so no manufacturers guarantee. We charge and test each one, fit our charts and the OEM version of Marine Navigator app. Set up and test GPS, calibrate compass.. and generally fettle this beastie, so it's totally turn key. We add our 30 Day no quibble money back guarantee, plus WE guarantee the tablet for 6 Months.
Nearest spec tablets we've see are the 8" Samsung Galaxy Tab Active which have 4G mobile internet, and bigger storage. And a matching pricetag (£300+) ... Our one has a bigger battery and a hefty but ergonomic industrial design. Looks like it was made for Batman !

Our pricing for boxed turn key GPS chartplotter with AIS compatible Marine Navigator app and the following chart areas:

Buy it, try it, 30 day money back guarantee if not 100% happy :
Chart area coverage details HERE
In the box: IP68 Industrial tablet, USB lead and mains charger. Earphones. Tool to deal with SIM card and memory card. Brief instruction sheet.



Members ONLY
Members pricing for 2020 will be (we're on our last batch now):
UK-Ireland charts £140
UK-NearContinent charts £155
UK, Near Continent plus Iberia (all the charts we do) £175
In the box: IP68 Industrial tablet, USB lead and mains charger. Earphones. Tool to deal with SIM card and memory card. Brief instruction sheet.


New 2020 extras package £21, well worth getting and only available at time of purchase:
We supply, fit and force install the charting on a 16Gb plug in top quality SD card. This alone takes about 50 mins. We set the SD card as default storage... We also put the charts on INTERNAL storage (30 mins). This leaves the internal storage fairly clear, plus 12-14 Gb default storage space on the SD card. It is well worth having as internal storage is only has about 5.8 Gb is available space max. If planning to add PlayStore and other apps you really need this.
PLUS-We supply a 12V charger, for boat use.

Based on experience gained with the first batches:
(This is now a belt and braces installation. If you accidentally eject/break/overwrite the SD card, or it fails. Simply eject the SD card, restart tablet, and it will run hapilly on the charts we installed on internal storage.)
Available:
OPTIONAL and FREE. Only order this at time of purchase if you are going to activate and use this:
We supply and fit a no contract Giff Gaff SIM card. Simply activate the SIM by putting (say) £5 or £10 on it, and you're off. Mobile phone, texts, and 3G internet.. away from home. Add 3G/phhone access in the months you need it. No ongoing contracts. (note.. we actually use a Giff Gaff SIM in a wi-fi "wingle" to provide internet access all the time. Been using 2 years now, all good. Often the emails you get from us come via this system)
VMH verdict: Been using one for 12 months now... and I'm keeping it ! It's a quirky package all round, the KitKat OS is a bit dated, but really ideally suited to this setup. With a quick swipe down from top you can easily access oft needed settings, such as turning mobile data on and off, screen brightness etc. It handles the app and charts really well, and has one of the best GPSs I've seen for fast lock on.
Compared to the new Teclast tablets that we plotter up, this slightly older OS seems a bit quaint..( but totally practical and very useable). For example.. getting my Google account and Play Store activated and working needed about 10 mins of updating from Google. Note: You DO NOT need Google (or their Play Store) to use this as a plotter out of the box., only if you want Play Store apps.
I like the heft of this, it feels solid and quality. The rubber bumpers are exactly in the right places to asorb impacts screen shattering impacts.. the corners. It feels very comfortable in the hands, you are unlikely to drop it.
At 7" the screen is big enough to do the chartplotting. It's not mega Hi Res ( it's 1200 * 800), which means you're not fiddling around trying to tap miniscule buttons. It will fit in a big pocket and can quickly be brought out for tricky pilotage stuff. Battery life is excellent.
I would say the 10" Teclasts are best for mounting on a bulkhead at the chart table. This one is far tougher and mobile, much better suited to cockpit use in yachts, or on RIBs, fast fishing boats.. or dinghy missions in poor vis.
I won't have a mobile phone at all, too intrusive. But I'm finding myself packing this a lot.
Spec:
Android 4.4.2 KitKat
1.2 GHz Quad Core processor
7000 ma/hr battery
3G capability with SIM card
8 GB ROM (5,8 useable) / 1 GB RAM
Expandable storage up to 32 GB with MicroSD
GPS
Compass
WiFi
Bluetooth 4.0
Micro USB port
Socket and earphones.
8 MP rear camera
5 MP front camera
(Non members..try London Chartplotters. They sell to all, have a good reputation, AND are a trade customer of ours.)