Small Petrol Generators on Boats ?
Your boat is on a mooring, and there is no mains electricity anywhere.. maybe your thoughts turn to having some kind of small generator that can run power tools and possibly charge your battery is as well. We're not talking about big plumbed in diesel generators here, more small portable petrol driven units.
The advantage of these is being portable they can be taken home with you in the boot of the car and may be used for other purposes as well. Live-aboards may well be considering one of these thinking that they can have some shore comforts, while at anchor.
In this article we'll take a look at some small generators, discuss the pros and cons, and try and evaluate what you could and could not achieve practically by owning one of these.
The first thing a potential purchaser need to understand is that there are basically two types of small petrol generators. The first kind is the "Frame" generator, as seen on building sites and elsewhere. This consists of a tubular metal framework, with either two stroke or four stroke engine, directly coupled to a mains voltage generator. The engine runs at a constant speed, and has some kind of governor mechanism that increases the engine power as more electrical load is demanded.
These are generally fairly cheap and very noisy, bear in mind that the little engine is screaming at 3000 rpm, with no soundproofing. The power output from this type of generator is "rough" to say the least, and certainly not suitable for powering sensitive electronic equipment
A newer type of generator is the inverter driven generator. In these a small engine drives a low voltage alternator, and the voltage is stepped up by an electronic inverter. The engine doesn't run at a constant speed, but runs fast enough to power the electrical load demanded. There are huge advantages... the machine is much lighter and smaller, the power output is highly regulated (electronically rather than mechanically), and is generally suitable for running very sensitive equipment. A further advantage is that these machines are generally much quieter, and altogether much less crude than a frame generator.
Moving up the price range a bit you can get very efficiently silenced inverter driven generators. The little Honda generator is perhaps the Rolls-Royce of these kind of unit... they really are surprisingly quiet especially if they are not running at full load.
Both types of generator are more than adequate for running power tools, up to the power rating of the unit, and thus suitable for use round the boatyard.
For use on board a boat longer term you really will need to get as quiet a generator as you can. Frame generators mounted on the deck of larger boats create an awful row, and you won't find yourself popular with neighbours. Most people we have seen using these in an anchorage very cleverly start them up just about when they are ready to go ashore, and then turn them off when they return.
The screaming generator is almost designed to drive their neighbours to distraction...and action !
The other problem with frame generators, is that the petrol caps are generally not of the secure type found on outboard engines.. ie they have an open breather that cannot be closed off. Finally being made of painted tubular and pressed steel, they will rust dreadfully in a marine environment.
Inverter driven generators are much smaller, and much lighter, often less than 15 kg. They generally have a plastic casing incorporating a carry handle, and the petrol caps generally have seal-able breathers. This effectively means that if you turn off the petrol tap, allow the carburettor to empty as the engine is running, and screw shut the breather... your compact little unit is suitable stowing away in a cockpit locker (just like the outboard engine).
So the answer is yes you could have mains power on board your small boat using a small petrol generator. A silenced inverter driven unit (possibly mounted on a custom-made platform hanging off the stern of the boat), could indeed provide power at a noise level you could live with. When not in use the unit can be stowed as mentioned above, and locked away.
But the crux of the matter is what do you want mains power on your boat for ? Most people will answer that they can keep their batteries charged up... yes and no. Normal battery chargers are designed to be left plugged in for long periods of time, thus trickle charging the batteries. This will be of no use at all in conjunction with a mains generator.... you'd have to run it for many, many, if hours to charge your battery.
You will need a proper switch mode battery charger (of the corrective capacity for your battery bank). These should be capable of putting a very respectable charge into your battery with a short runtime.
Another perhaps more elegant solution having mains electricity on your boat, is to forget about the little petrol generators altogether. Fitting a more powerful or extra alternator on your main diesel engine, controlled by a specialised alternator controller could well prove the answer. This in conjunction with a hefty battery bank and a powerful inverter could give you all the mains power you want (up to about 2 kW), without the need for a separate generator. This will have to be the subject of a future article...
For now let us leave you with some information and examples of the small petrol generators featured on this page.

230V 650W Petrol Northern Tool Generator £68.99 (Cheap "frame" genny, heavy and noisy)
Product Specifications: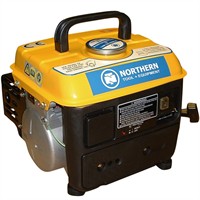 Weight 20.00KG
* 4L tank
* 650W continuous power
* Max wattage: 720W
* Engine: 2 stroke, Northern Tool
* Run time: 6.5hrs
* Max kVA: 0.95
* Outlets: 1 x 230V/13Amp + 12V DC
* Sound pressure: 68dB @ 7m
* Sound power: (2000/14/EC): 91dB (LWa)
* Conforms to 2005 emission regulations
* Dimensions: 300 x 360 x 370mm (L x W x H)
PLEASE NOTE: This 230V 650W Petrol Generator is suitable for light duty use only.
230V 900W SDMO Inverter Generator £287.49 (Inverter driven unit, quieter and much lighter)
This generating set with inverter technology has been designed for DIY, emergency intervention, mobile businesses, camping/caravanning + sailing. The inverter technology assures voltage + frequency stability at +/- 1% of the nominal value, allowing a regular + reliable current to be maintained. The 4-stroke engine adapts its speed to the current which reduces emissions - this unit has a lower emission rate than the strictest world standards. Also features warning lights which alert you immediately to alarms and faults and full power as soon as the engine starts.
Product Specifications:

Weight 13.00KG
* Frequency: 50Hz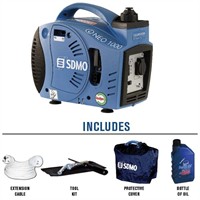 * Max. Power: 900W
* Sound Level (Lwa / dBA): 93 / 70
* Engine: Olymp ES-38-1 OHV
* Manual Start
* Sockets: 10/16A 230V
* Run Time: 4hrs
* Fuel Tank: 2L
* Oil Capacity: 0.2L
* Lightweight and easy to carry with a wide handle
* Dimensions: 447 x 260 x 387mm (L x W x H)
Comes with:

* 5m extension lead
* Cover
* 0.5L oil can
* Toolkit with a spark plug spanner, screwdriver and a socket

1.0kVA Honda Silent Petrol Generator £689.99 (the Rolls-Royce of small gennys, very quiet)
This Silent 1kva Petrol Honda Generator has a stylish and ergonomic design which is lightweight and portable!
Product Specifications: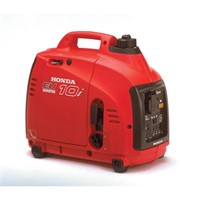 Weight 13.00KG
* Rating: 1000W
* Volts: 230/12V
* Engine: Honda single-cylinder, air cooled, 4-stroke overhead valve
* Fuel capacity: 2.3L
* Run time: 3.6 - 8.3 hours
* Noise rating: 52dB(a) @ 7m
* Outlets: 1 x 230V/13Amp, 1 x 12V/8Amp
* Recoil start, low oil alert shutoff.
* Automatic compression release (ACR) for fast, easy start.
* Dimensions: 450 x 240 x 380mm (L x W x H)
These generators, part of quite a range, can be purchased online from Northern Tool Equipment Co UK Limited at the prices mentioned here.
Similar generators may be found at B & Q , who also stock a smaller range of generators.
Finally: Always remember SAFETY where mains voltages and boats are combined. Use an earth leakage tripper unit at all times.