Admiralty Standard Chart
Admiralty Standard Charts:


For nautical charts covering the coastlines of the UK and Ireland the source of nearly all information is the United Kingdom Hydrographic Office (UKHO) and the custodianship organisations (such as Port and Harbour authorities) who work with them. All other UK leisure charts are based on information licensed directly from the UKHO.
The UKHO produces an series of over 3,300 Standard Nautical Charts which meet the requirements of professional, commercial and recreational navigation in accordance with SOLAS regulations, ensuring safe navigation at sea worldwide.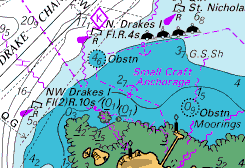 A quick glance at the familiar " mustard and cobalt" Admiralty charts will show depths, coastal features, and hazards of interest to the mariner.The fine detail available on the larger scale charts is unrivalled and is coupled with the Admiralty's renowned accuracy. Tidal stream data in tabulated form is generally included in the chart together with notes on the composition of the seabed (which will help with anchoring decisions, but probably stems from the days when the "lead" was armed with tallow, enabling a seabed sample to be brought up and help in the confirmations of position).
Admiralty Standard Nautical Charts are produced in a range of scales for safe ocean navigation covering passage planning, harbours and nautical hazards, anchorages, coastal and offshore navigation. They are printed on heavy cartridge paper, and sold by Admiralty chart agents fully updated.
Admiralty Notices to Mariners, weekly editions, contain information which enables the mariner to keep his charts and books published by UKHO up-to-date for the latest reports received. New editions and new charts are listed in advance in Weekly Notices to Mariners in booklet format and via the UKHO website.
These standard Admiralty charts (together with the backup systems used to update them) are in day-to-day use by serious professional mariners worldwide, including the Royal Navy.
Standard Nautical Charts retail at £21.35 each.
Exactly the same charts are available electronically via the ARCS service, which allows the use of familiar charts within electronic navigation systems. For leisure sailors "Charts for SeaClear and Marine Navigator" use the same official charts in electronic format.
Over 400 Standard Admiralty Charts give complete coverage of the UK and Ireland, divided into 8 Folios. They are listed below, click to see thumbnail and/or buy from Todd Chart, our preferred Admiralty Chart Agent:
Folio 3, Irish sea, Firth of Clyde and north coast of Ireland
Folio 4, West coast of Ireland
Folio 5, West coast of Scotland
Folio 6, North and east coasts of Scotland etc.
Folio 7, North sea including Firth of Forth to Thames entrance
Folio 8, Rivers Thames and Medway and approaches