Creating a Log In
Creating a log in "account"...don't be put off by the word account, it dosen't mean we'll be asking you for money !
For non business viewers, opening an account will give you FREE access to FULL SCREEN tide tables, so you can see them as they are meant to be seen. It will also enable you to drop comments underneath our harbour coverage. Tick the box allowing emails (you'll only get maximum 2 a year and we NEVER pass on your details to anyone). If, and only if, you want to become a full member do you need to pay £25. Find out about FULL MEMBERSHIP Click HERE for a membership preview
Businesses need to create a user account to alter and improve their directory listings at will (for free).


Creating your "Log in account" is simple enough.
Step 1: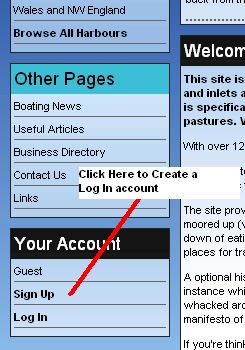 Step 2: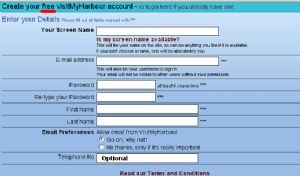 You do NOT have to give any personal information other than your real name, your email address, first line of address and postcode. You can choose to give a lot more info, and you can see it and edit it, anytime you like. Note, we don't ask for any financial information, and information you do give is send securely using https.
Once you've completed Step 2, you'll get an automatic confirmation email from us, which you just click on to confirm you really are at your email address.
That's it, all done.
Simply log into the site, and you will be able to change your details whenever.
You will now find the "Full Screen" buttons on the UK Tide Tables are visible and ready to use.
Under every harbour we cover, you will find you can leave information, tips, grumbles, etc.
Businesses...(if you are already in our directory) once you've created your log in account, if you email us with YOUR NAME, YOUR BUSINESS NAME, and the harbour you directory entry is attached to..we can link your directory entry, and you'll be in control.
Some questions..
Will I have to pay anything..I've see signs for credit cards ?
NO (not unless you wish to become a full member)
Are my details safe ?
YES
Will you be bombarding me with emails ?
NO
Why are there credit card signs in the "Terms and conditions" ?
So that business people can pay any advertising bills online (if they choose to take advertising with us), or people can join up as a full member IF they want to.
If I start making a good job of my directory entry, will you be wanting any money from me ?
NO