I cannot emphasise this strongly enough,
while the device show a steady green light it is NOT working.
You must wait for it to lock on, and ONLY THEN when the LED is flashing can you continue. This can take ages. Don't worry, the next time you use it, it will very quickly lock on, it's only the first time that seems to take forever. The better view of the sky it has the quicker it will latch on to the satellites.
Next, with the LED flashing away hapilly, you need to locate the COM port the device is connected to. With XP right click "My Computer" >>>>>"Manage">>>>>>"Device Manager" >>>>>"Com and LPT Ports" In there you'll see the Com port number for the device.
In Windows 7, try "Start" >>>"Devices and Printers" You should find it there, note the Com port number.
Possible issues with Windows 7: May take a couple of tries to install drivers with W7, best to use the DOWNLOAD
Click HERE
drivers rather than the CD. W7 may ask to search online for drivers..let it.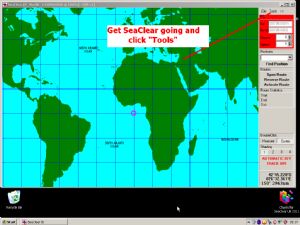 NOW get SeaClear going,
preferably your installed version already set up and tested with the chart package,
or you can just use the LITE version burned into the DVD.
Click Tools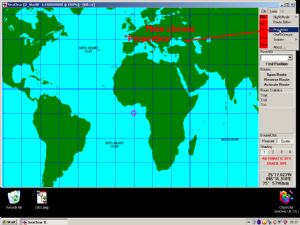 Select Properties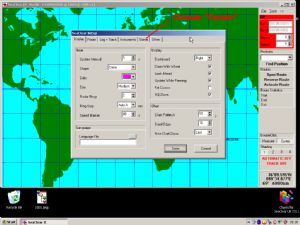 Select the Comms tab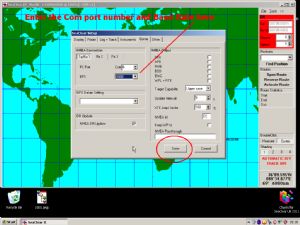 Enter the Com port number (eg: 5 or 20 etc.) into the correct box.
Set the BPS (Baud Rate) to 9600
Click Save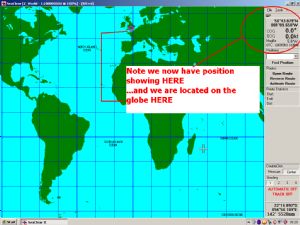 Now you should see a change in SeaClear.
The box (top RIGHT) that was
red
and said DR, should now say GP and your current location should be there, Lat and Long.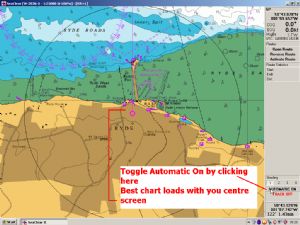 Toggle Automatic On/Off to ON by clicking where shown.
With a bit of whirring and chugging the best chart will load with YOU positioned centre screen.
That's our office centre screen !
And that's about it.
Just remember if you've done this with the SeaClear LITE version burned onto the DVD or USB, next time you reload it, it will have "Forgotten" the Com port settings you just entered. This is because it's "Read only", burned in and unchangeable. Use your installed version and it will remember these and the many other custom settings you can set up through the "Tools" >>>"Properties" selector (top right).
Happy sailing !
General notes on connecting other GPS sets to SeaClear:
Use the same general methods as above
Install drivers for cable (Handhelds)or USB GPS unit. Bluetooth wireless units pair them, note Com ports and Baud rates.
Plug in and switch on GPS, allow it to get fix.
Link to SeaClear as above
GARMIN UNITS use a different language, everything looks OK but no NMEA signal for SeaClear. Solution: Use MENU (possibly press twice) on your handheld Garmin unit. >>>>> SETUP >>>>> INTERFACE tab >>>>>NMEA. (Maybe recheck the COM port number after doing this step) If having problems with Garmins and their cable contact them for advice. We know from our own customers they can be made to talk NMEA down the USB cable and SeaClear will use this signal.