Installing an AIS receiver
So, what do we need to install an AIS receiver, and how much is it all likely to cost ?

Receiving and decoding the AIS messages is just the start of the process. A means is needed to display these ships in relation to your own boat, similar to a radar screen... your boat central, AIS ships spread around you in a circle.

What is AIS ?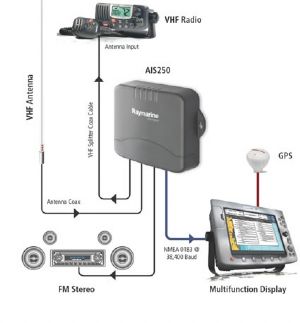 For a boat with a fully installed NMEA system, it's probably best to stick with your chosen manufacturer and pony up the cash for a matching AIS "Black Box". This will probably need professional wiring to connect the various NMEA feeds to the correct displays. For example the Raymarine AIS250 receiver interfaces with the existing VHF antenna, and displays it's results on the Raymarine chartplotter or overlaid on the Raymarine radar. Price £360 to £550 plus installation. For a fully intergrated system, it's probably best to stick to matching equipment built by the same manufacturer.

Other things needed: Matching plotter, optional matching radar, 12v supply, professional wiring, a VHF aerial (often can use existing one)






For those who have self installed a decent chartplotter, either at the chart table or at the wheel, it may be possible to buy and install a stand alone black box and wire it yourself, if the plotter can take NMEA data. Your choice then is much wider, with prices ranging from £140 for a NASA unit, £255 odd for an Icom, and upwards. You will have to install the box with fused 12v supply, connect the NMEA output to the plotter, and connect a VHF aerial. Some units can use the same VHF aerial you use for transmitting (often with yet another "black box" splitter). This will save the cost of another antenna. It may take some skill (or professional help) sorting out the NMEA connections.

Other things needed: Compatible plotter, 12v supply, cabling, probably professional wiring, a VHF aerial (often can use existing one)




For those who use traditional paper chart and pencil, probably the best option is a standalone system. The one from NASA will do this job cheaply with minimal installation fuss. It displays the AIS targets on a small screen with your boat central. Information about the targets can be read, and it looks very similar to a radar screen. Remember AIS is NOT the same as radar. Prices range from £260 to £300. Installation needs a GPS set talking NMEA to be connected to the AIS receiver (to centre you on the display). Your current handheld/installed GPS set probably has an NMEA output, you'll need to find, wire and connect this. It also needs a separate VHF aerial exclusively for AIS use.

Other things needed: 12v supply, cabling, a compatible GPS set, a separate VHF aerial, possible help with connecting the GPS to the AIS.

2017 UPDATE: See Quark Elec article. Cost effective AIS and NMEA multiplexers for PCs Macs, Linux and Android systems. USB or Wi-Fi options. All under £100 !

For those who use PC based chartplotters, like our "Charts for SeaClear" system, you will need an AIS receiver that can connect to a serial or USB port. That narrows it down somewhat, pure NMEA black box AIS receivers often don't have a way of interfacing smoothly with a PC. Two pieces of equipment spring to mind here, the NASA AIS Engine 3, at about £135. You will need a separate serial to USB cable and a dedicated VHF aerial installation (useful as an emergency VHF transmitting antenna). It needs a 12v supply and permanent fixing with the boat like all the other "Black Box" units.


The other rather clever option is an "in line" USB to VHF antenna, with a AIS receiver/decoder in the line. This needs no 12v supply, it simply plugs into a spare USB port on your laptop navigation computer. A standard (dedicated) VHF aerial is connected to the other end, just like the NASA unit. Your chart plotting software connects to this in the same way as it does your GPS, via a com port. You are displayed centrally on your chart, and the shipping is displayed in an array around you. Using range rings and bearing lines, you can use this in a similar way to a radar (remember though, AIS is NOT the same as radar) Details of the ships can be displayed, as in all the other systems.

Other things needed: Laptop based chartplotter with GPS dongle, a separate VHF aerial