URGENT WARNING - Google disabling your Navigation app
Newsflash: Mid October 2023
Who is this article for: Anyone who purchased Marine Navigator app from Google Play..at any time in the past 10 years. (Not affected: The Serial Edition purchased from VMH or the OEM edition bundled with pre-prepared tablets)
Subject: Google is actively disabling existing working paid versions of Marine Navigator. You paid Google for it. It was meant to work with no time limit after purchase.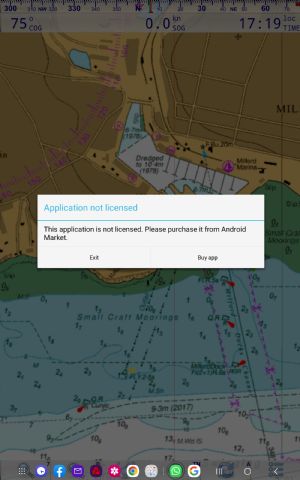 Result: You lose your navigating system and charts too. Unlikely to happen when app is in use, but seems to happen when app is restarted. No warning. Could be dangerous. At least it's happened off season...
Workaround: See comments below
Test now: We recommend all customers with the Google version of the app, start testing it repeatedly as soon as possible. Seems to affect all old and new devices.
Why ? We think we know (we believe it's connected with Windows 11see note) and this will affect many other older apps.
What can you do ? Nothing. Google's T&Cs are roughly the size of the Bible, and there will be something in there that allows them to basically do what they want with no recompense to you the end customer !
How to move forwards from here: Mr Koenig made Marine Navigator SE (Serial Edition) available through us at VMH a while back. Unlike PlayStore editions, this is NOT locked to any account and can be sideloaded to any Android device. SEE HERE. You get two possible app activations, one working one backup. Disadvantage..it won't follow you round to new devices. It's locked to the device. A new device will need new app and activation. Advantage.. once up and running on a device it can't be deactivated remotely.
Retrieve charts: App customers in US, Brazil and New Zealand (where charts are free), simply get and import a fresh set of charts into the new Marine Navigator SE app.
VMH paid licensed charts: Unlike app store stuff, our charts are licensed per device. To retrieve and re-install your charts you WILL need the original email with the Unlock Codes and the download links from when you purchased from VMH. You need to freshly install the charts into the new Marine Navigator SE app. And you need to activate them using the ORIGINAL unlock code you used on that device in the first place. This will work for charts purchased in 2022 and 2023. VMH support is available for purchases made in the last 12 months. Older chartsets..you may need to buy afresh, suggest waiting till Feb 2024. They are not expensive.
Summary: With the Marine Navigator SE app and VMH charts combination, you will never have to worry about some American tech behemoth arbitrarily endangering your safety without warning. Anything from any app store is not fit for navigation as it can be remotely disabled. And to think the UKHO wanted to stop paper charts !
Notes and Comments from users:

From Ronald Koenig, the app developer 27th Oct 23:
"I have contacted Google to clarify why the license server has stopped to verifiy valid licenses. I am waiting for an answer and keep you updated."

Salvaging waypoints etc:
Thanks so much for the info. Where are the waypoints stored I cannot remember - are they in the marine navigator and if so presumably they will be lost when and if I have to install MNav from you, if google disable mine
Regards M
Answer: Use an Android File Manager:
Storage>>>Android>>>data>>de.kemiro.marinenavigator>>>files>>> (routes, waypoints, etc)
You can copy your waypoints from there and put them in the new file structure for the SE app purchased from us.

Hello Steve
The instructions published today are spot-on and I have recovered the software and reloaded all my VMH and Antares charts. The only thing I would add is to delete the Play Store version of Marine Navigator. File Manager/Apps/ Marine Navigator 2.1.18 in my case, and keep the new version 2.1.19-Serial. This will release a considerable amount of memory as the charts are stored as data with the App.
Best regards P.C



Workaround:
Steve,
Turn off WiFi the start MN. Play Store can't be contacted for license check so MN works.
Turn WiFi back on and MN still works!

A

I have found the reason for the problem. Marine Navigator has inherent permission for a google licence check built in to it, as of course when it was sold on google play, that was a standard part of the apps sold on play store.
If you access Navigator without internet connection turned on - which of course is not needed for the app and your charts, providing the device has a reliable built in GPS, all works perfectly.
If you have wireless turned on as soon as you open Marine Navigator you cannot proceed as the licence pop-up appears - exactly the same as you posted it.
If you launch Navigator, with wireless OFF and then turn wireless ON - it appears that all works OK
As far as I can see it is only launching Navigator with wireless ON that fails.
Re my previous email, I have found the way to store waypoints in a file separate to the charts so presumably I will be able to put those back on the new Navigator when I buy that from you.
I have been with you since 2013 I think ... thanks for all you do to look after your customers. M
Hi
Thanks for the warning. My PlayStore version is affected. There is a work-around, not ideal but could be useful in the short term:
· Disconnect the device from the internet (wifi and mobile)
· Open Marine Navigator (the disabling notice does not show)
· Reconnect to the internet. Marine Navigator stays working.
Regards
D
Comments:

Thank You for this explanation.
I was affected by this on Sunday morning outside Cowes on a race start line and suddenly no access including to all my stored Solent racing marks!!
I've read your website instructions and will attempt to retrieve my charts and waypoints.
I agree with your sentiments regarding large tech companies.
Thanks again for the quick contact.
Best Regards B

Thank you for this important info. One of my 2 android tablets (the oldest one) was indeed affected by this issue. Thanks to your warning and the explanations on the VMH website, I have now uninstalled the original Marine Navigator app and downloaded it again from VMH.

I even managed to reinstall my maps!

So all is well now and ready for the next navigations.
Best regards, P.L
Dear Folks,
Many thanks for the way you've handled this googleobstacle! I barely lost a day.
From a Marine Navigator user in New Zealand.
Hello. Ridiculous that Google can deliberately stop an app working and leave users without an essential navigation tool.
I was wondering about my Android tablet/phone which has the maps and app installed. It does have a slot for a phone sim card but that has been removed, I can also switch the WiFi off so that when I switch it on, it cannot connect to the Internet and thus hide from the claws of Google. It has not been on for a month or so. Do you think the app and maps will keep working.
Many thanks. J.C

Answer: YES see above
Note: Windows 11 since 2021 has been able to run native Android apps (APKs). and people had worked out how to get PlayStore apps running just fine on it. Google don't want competition for their Chromebooks which can run PlayStore apps. So Play Store licensing systems are changing to prevent this. More info HERE and HERE This could be an explanation, where they are now purging older APK type apps.