Update paths to 2017 USBs and DVDs
If you bought in 2016 and have a PINK SLIP...please follow the instructions on the slip and claim your 2017 Initial Update
Time limit: please update within 12 months of your original purchase, or June at the latest.
The "initial update" doesn't allow you any extra activations than you were originally allowed, but updates what you already have, Initial Updates cannot have their coverage modified.
If you have a pre 2016 edition and you want to upgrade:
Upgrade path from 2012 / 2013 /2014/2015 "Charts for SeaClear UK/IRL" DVDs to the 2017 DVD: Send us back your old DVD with a covering note, phone number and your email address. Don't send a cheque. We will invoice you £20 plus P&P by PayPal, and despatch the brand new 2017 "Registration Version" UK/IRL DVD.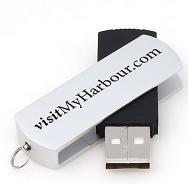 Upgrade path from older 2012/ 2013 / 2014 / 2015 USB dongles (SeaClear) or ChartSticks (OpenCPN) to the 2017 versions: Send us back your old USB dongle/ ChartStick (in proper working order only) with a covering note, phone number and your email address. Don't send a cheque. We'll invoice you via PayPal for a rebuild. The price is whatever the standard retail price is at present + P+P (depends on area coverage required) LESS £15.
Note: This is treated as a fresh purchase (comes with pink slip) and therefore attracts a free or very cheap INITIAL UPDATE in 2018 !
NOTE: With 2 way postage costs, time, etc...it may be worth considering just buying the new Unified Charts USB instead..it's far more versatile than older products


"When we purchase something we all hope to receive good service. Sometimes that happens and occasionally we get really good service. Rarely, if ever, we get really, really good service and that is what I have received in all my dealings with yourselves. I have never given a testimonial before but the courtesy and helpfulness of your staff, coupled with the speed of your service is so refreshing, I feel compelled to convey my appreciation to you.

I would add that the quality of your 'charts' are of a similar high standard.
Thank you once again for your help and advice.