2015 ChartStick- for OpenCPN and PolarNavy (inc. International Areas)
2015 editions NOW available (with 2016 update at under £7 !)
The VisitMyHarbour "ChartStick" a portable, easy to use way of providing "For Navigation" Raster charts, that are compatible with some fantastic free (or very cheap) navigation programs.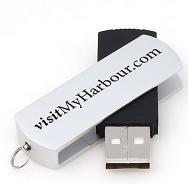 This tiny USB dongle is an unusual way of delivering navigation chart packages.
UK/Ireland £39.50
UK/Ireland/Belgium/Netherlands £49.50 UK/Ireland/Spain/Portugal £54.50 UK/IRL/BE/NL/ES/P £62.50
Instead of locking the copyright chart content to the hard drive of one or two machines, the charts are on the dongle and locked to it.
Portable between Windows laptops/desktops (and forthcoming Windows8 Tablets) Use on multiple machines. Charts don't expire.

Subsequent recharges with new editions (if required) are inexpensive, so there's no excuse not to have up-to-date charts

.

FREE following year update for late season purchasers (purchases after August 2015)

Charts work with OpenCPN (free) and PolarNavy (cheap)

Using a USB connection these charts are fast (only marginally slower that a fully installed system)

30 Day no quibble money back guarantee
All the 2015 editions of the ChartStick contains a complete set of UK/Ireland raster charts derived from data supplied by the UKHO. (plus other charts as specified further down this page) They have the same look and feel as standard paper charts. The charts are dated as follows: UK/IRL 1st Jan 2015 ES/P BE/NL charts dated Oct 2014
Computer specs required: Windows XP, Vista, or 7 and intel based Windows8. This will not work on Macs, ipads, android, linux etc. USB socket required at all times. Faster with USB 2 sockets. In general... the faster the processor speeds the better results you'll get. For use with openCPN we recommend version 2.5 for best image quality. (or newer versions with GL mode enabled). No registration or internet connection required to use this product, plug in and use.
How easy is this to use ?
Very easy ! You plug the USB in, run a start up sequence (10sec)... then simply "point" your pre-installed PolarNavy or OpenCPN installation at the chart directory on the stick. Connecting a compatibe GPS to any one of these programs will position you on the charts.
What's on the stick:
The chart packages, plus software that will install OpenCPN 2.5,and installation software for Polar Navy (PolarView and PolarCom) Open CPN is free, Polar Navy is free to try for 30 days, then a small fee to them (about £25) if you want to continue. Both programs are very good, so take your pick.



Coverage: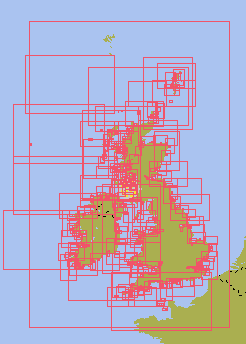 .
.
This 2015 UK/Ireland edition contains over 800 raster charts, dated 1st Jan 2015.
£39.50 plus P&P
.
.
.
.
.
.
Important note: Although the French coasts are visible, there is not enough detail to approach these coasts safely. If visiting France you WILL need alternative charts.
.
.
.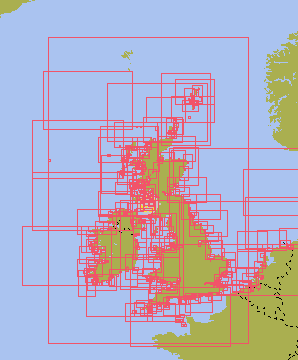 This UK/Ireland/Belgium/Netherlands edition contains over 882. UK charts dated 1st Jan 2015, BE and NL Charts dated Oct 2014. The new TSS schemes around the Netherlands coasts in Aug 2013 are on these charts.





£49.50 Plus P&P
.
.
.
.
.
.
.
.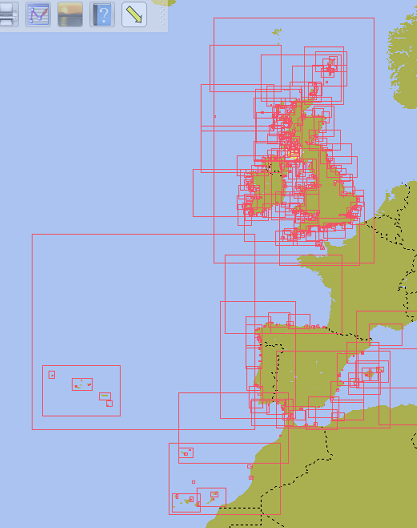 .
This UK/IBERIA chartset contains over 1020 raster charts. UK/IRL charts 1st Jan 2015, ES/P charts Oct 2014. Coverage extends to the Azores.


£54.50 plus P&P

.
.
.
.
.
.
.
.
.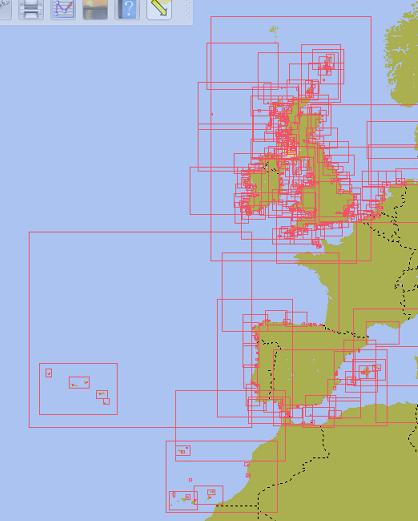 .
.
This UK/IRL/BE/NL/ES/P chartset combines all the charts, over 1,100 of them into one package. UK/IRL charts are dated 1st Jan 2015, all the rest Oct 2014
Price £62.50 plus P&P
.
.
.
.
.
.

.
.
.
Remember the 30 day "No Quibble" money back guarantee. If the coverage, quality, or anything else about a ChartStick disappoints you, just return for a full refund. No problems or questions.
Detailed Views: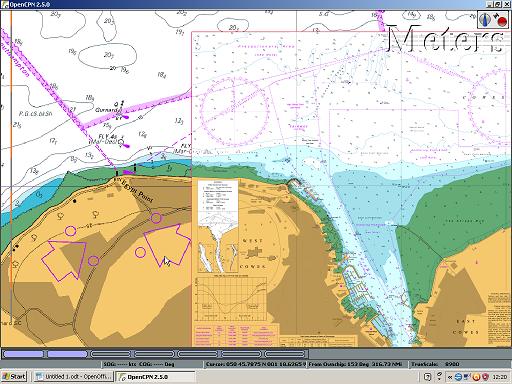 Quilted raster Chart in OpenCPN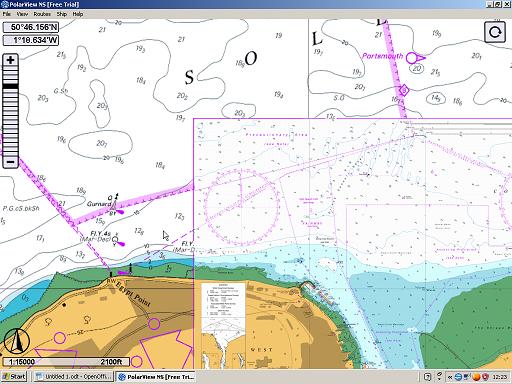 Quilted Raster Chart in Polar View
Our conclusions
We love the simplicity, speed and reliability of our best selling SeaClear chart systems (from £29.50) For those looking for more "bells and whistles" OpenCPN and Polar Navy will do a great job.. in fact the same job as programs costing 100s of pounds. This "ChartStick" package is fantastic value for those looking for a bit more than SeaClear can offer.
Unbiased information 01983 567866 Office Hours
Read a 1000 mile sea test of SeaClear,OpenCPN, Polar Navy and Google Earth..compared and tested