ChartStick- for OpenCPN and others (inc.France)
This is a legacy product,
please check out Unified Charts
Logged in members go HERE to buy Unified Charts USB with a good discount
ChartStick has been replaced by Unified Charts. Works in the same way, compatible with OpenCPN, same price. BUT also works with many other programs too !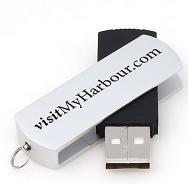 This tiny USB dongle is an unusual way of delivering navigation chart packages for Windows machines.

UK/Ireland £39.50
UK and Near Continent £58.00 UK/Iberia £54.50 UK, Near Continent, Iberia £75.00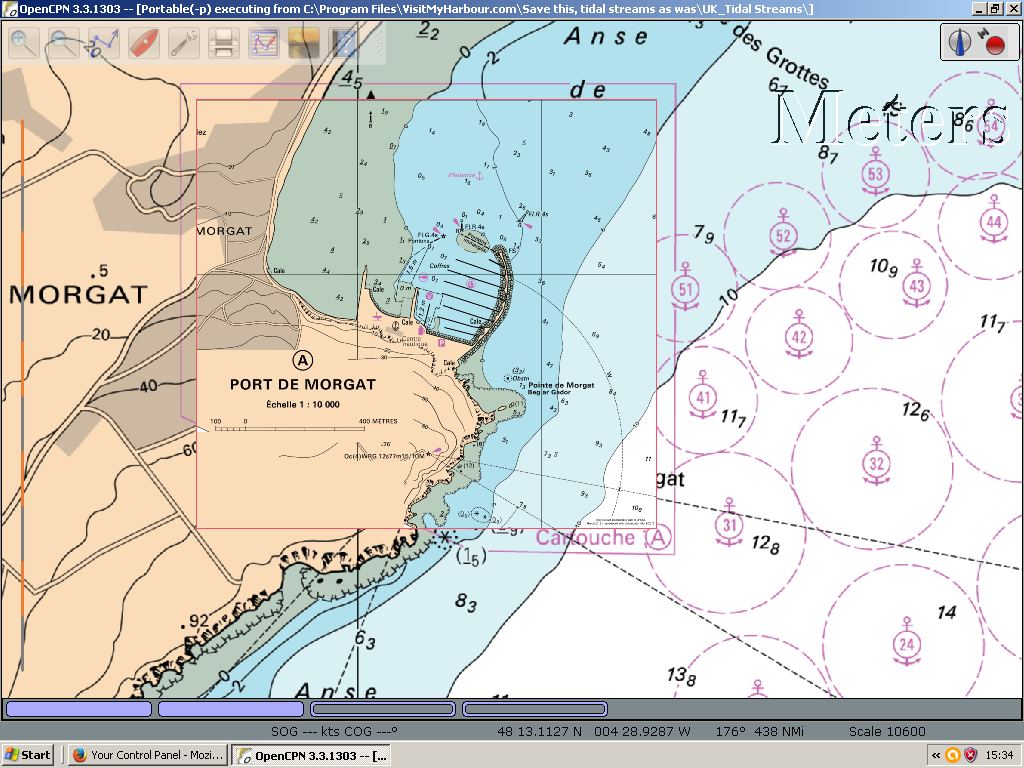 French charts in OpenCPN
Instead of locking the copyright chart content to the hard drive of one or two machines, the charts are on the dongle and locked to it. These ChartSticks are compatible with WINDOWS only, not Mac, Linux, Android, etc
Portable between Windows laptops/desktops (inc Windows 8.1 and 10 Tablets) Use on multiple machines. Charts don't expire.

Subsequent recharges with new editions (if required) are inexpensive, so there's no excuse not to have up-to-date charts

Charts work with OpenCPN (free) and PolarNavy (cheap) and now Expedition

Using a USB connection these charts are fast (only marginally slower that a fully installed system)

30 Day no quibble money back guarantee
All the 2017 editions of the ChartStick contains a complete set of UK/Ireland raster charts derived from data supplied by the UKHO. (plus other charts as specified further down this page) They have the same look and feel as standard paper charts. The charts are dated as follows: UK/IRL 1st Jan 2017 ES/P BE/NL charts dated Oct 2016 FR Channel SHOM charts 22nd Dec 2016
Computer specs required: Windows XP, Vista, or 7 and intel based Windows8, 8.1,10. This will not work on Macs, ipads, android, linux etc. USB socket required at all times. Faster with USB 2 sockets. In general... the faster the processor speeds the better results you'll get. For use with openCPN we recommend version 2.5 for best image quality. (or newer versions with GL mode enabled). No registration or internet connection required to use this product, plug in and use.
How easy is this to use ?
Very easy ! You plug the USB in, run a start up sequence (10sec)... then simply "point" your pre-installed PolarNavy / OpenCPN / Expedition installation at the chart directory on the stick. Connecting a compatibe GPS to any one of these programs will position you on the charts.
What's on the stick:
The chart packages, plus software that will install OpenCPN 4.0,and installation software for Polar Navy (PolarView) Open CPN is free, Polar Navy is free to try for 30 days, then a small fee to them (about £25) if you want to continue. Both programs are very good, so take your pick. Expedition is a very specialist yacht racing program.



Coverage: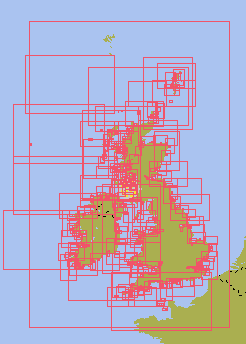 .
.
This 2016 UK/Ireland edition contains over 800 raster charts, dated 1st Jan 2017.
No longer available... Buy Unified Charts on USB £42

Important note: Although the French coasts are visible, there is not enough detail to approach these coasts safely. If visiting France you WILL need the package below:.
.UK and Near Continent
.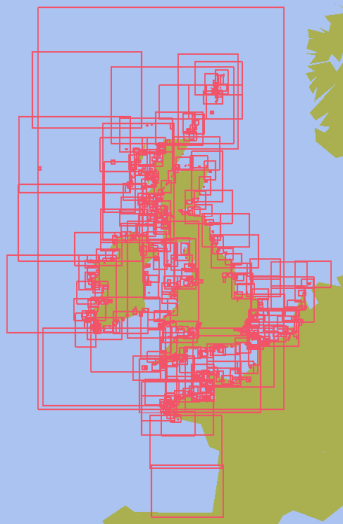 .
.
.
.
This Channel France/UK/Ireland/Belgium/Netherlands edition contains over 1014 charts dated Oct 2016 to Jan 2017
.
.
.
.
No longer available... Buy Unified Charts on USB £58, same price
Coverage: UK/Ireland/Channel France/ Belgium, 100% at all scales available. French coverage at all available scales, starts just south of Brest and extends to Belgium. Small scale French coverage down towards Spain.
.

.
.
.
.
.Ce produit : - contient toutes les cartes marines, à grande, moyenne, et petite échelle, pour les côtes Françaises, depuis la frontière Belge jusqu'aux Iles des Glénan incluses. Contient 5 cartes marines à moyenne échelle ou à grande échelle pour la zone sud des Iles des Glénan jusqu'à la frontière Espagnole. Ne contient pas de cartes marines détaillées, à petite échelle, pour le reste de la façade Atlantique des côtes Françaises.

.









For the avoidance of doubt: Our Netherlands coverage in this and any other product is shown below: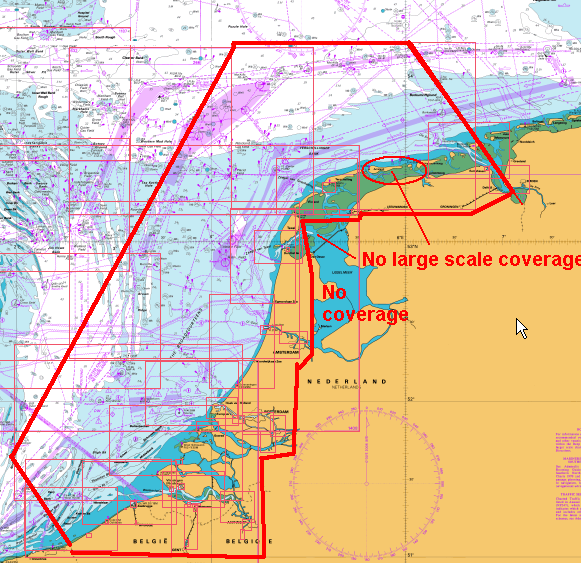 .No freshwater inland coverage. Fine for coastal passagemaking.
.
.
.
.
.
.
.UK/IBERIA
.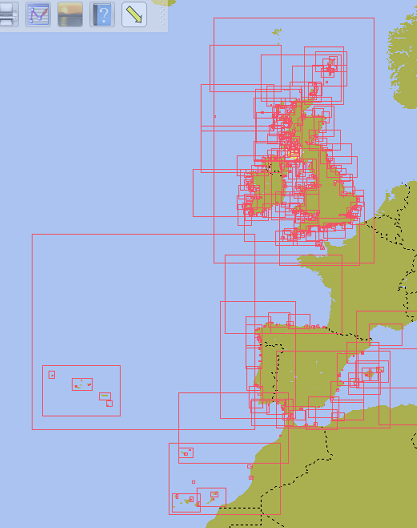 .
.
This UK/IBERIA chartset contains over 1020 raster charts. Charts dated Oct 16 and Jan 17. Coverage extends to the Azores. Ideal for those heading South directly across Biscay.

No longer available... Buy Unified Charts on USB £55
.
.
.


.
.
.
.
.
.
.
.
.
UK, Near Continent, Biscay, Iberia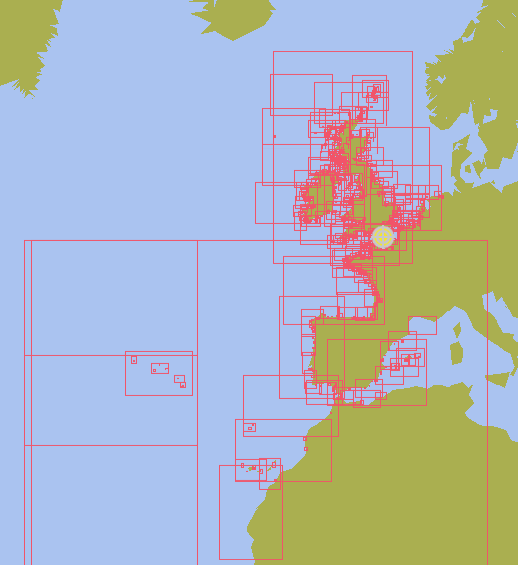 .
.
.
.
This Channel and Atlantic France, UK/IRL/BE/NL/ES/P chartset combines all the charts, over 1300+ of them into one package. FR charts are dated 22nd Dec 2016, all the rest Oct 16- Jan 17
No longer available... Buy Unified Charts on USB £80
.
.
.
.
.
.
.
.
.
Buy this USB instead.. hardly any price difference, but more versatile. Same coverage, works exactly the same way as the ChartStick.



Unified Charts on USB a portable, easy to use way of providing "For Navigation" Raster charts, that are compatible with some fantastic free (or very cheap) navigation programs.
Superb time tested compatibility with ALL Windows versions XP to W10.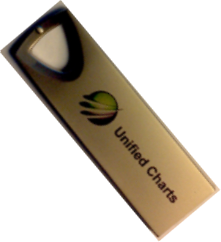 This tiny USB dongle is an unusual way of delivering navigation chart packages for Windows machines. Windows charts are locked to the USB, thus portable between machines. Marine Navigator charts are bundled for Android installation (2 Devices max)
See area coverage maps further up this page




.
.
.
Notices for French charts

« Aucun service hydrographique officiel n'a vérifié les informations contenues dans ce document et ne peut être tenu responsable de la fidélité de leur reproduction ou de toute modification ultérieure. La possession de ce produit dérivé n'exonère pas de l'obligation d'utiliser les documents nautiques appropriés prévus par les règlements nationaux ou internationaux ». "No official Hydrographic Office has verified the information contained in this document and can not be held responsible for the accuracy of reproduction or any subsequent amendment. Possession of the derivative does not exempt from the obligation use appropriate nautical documents required by national laws or International ".
« Ce produit intègre des données © SHOM – 12/2016 – reproduites avec l'autorisation n° 6/2015 » "This product incorporates data © SHOM - Dec / 2016 - reproduced with authorization No. 6/2015 "
Remember the 30 day "No Quibble" money back guarantee. If the coverage, quality, or anything else about a ChartStick disappoints you, just return for a full refund. No problems or questions.
Detailed Views: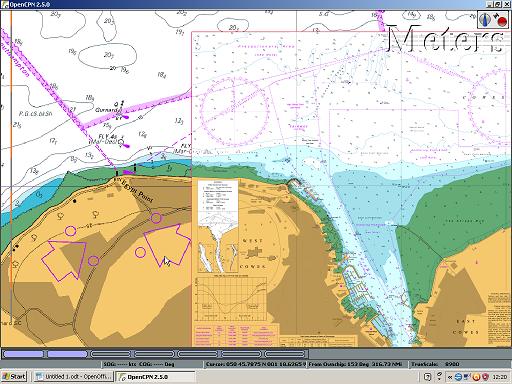 Quilted raster Chart in OpenCPN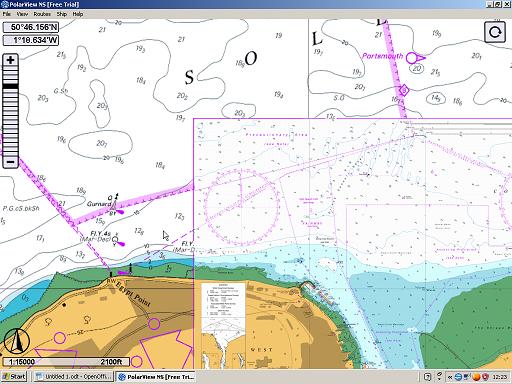 Quilted Raster Chart in Polar View
"Hi Steve,
Thanks so much for getting the memory stick out to us at Mylor,Falmouth. It arrived yesterday at 11:30 and we set off at 12;30.

Now safely moored up in Roscoff and the French charts are great..
Fantastic service..

Simon"
"Ahoy there,
I bought an Iberian/UK Chartstick from you in May and now having had a chance to use it with OpenCPN on a full seagoing voyage from Bordeaux back to the UK I want to let you know that despite the sparsity of charts (NOTE: Atlantic France is available on Unified Charts USB/Downloads only, not on CharrtSticks) covering the French coast of the Bay of Biscay I was very happy with the overall performance of the system and I am very satisfied with my purchase.

As the owner of a MacBook I initially thought that I wouldn't be able to run the Windows based ChartStick but a more computer knowledgeable friend said that it was possible to divide the hard drive of a Mac and switch between XOS and Windows. With the hard drive divided and Windows 10 installed the ChartStick fired up and with the addition of a GlobalSat BU-353 USB GPS the system ran perfectly.
Perhaps you might pass this tip on to other Mac users so that they may
also get the benefit of your great product.

Cheers,"
Cedric (Bluey) Hellier
Yachtmaster Ocean
"Hello,
I have purchased the chartstick version of your charts in beginning this year. Now I have a lot of experience with it as I have sailed with it along the coast of Netherlands, Belgium, France, Channel Islands, Spain, Portugal and Acores together with OpenCPN and can say it that your Chartstick is a brilliant product. I am totally satisfied, because the performance drop normally experienced for decryption of this kind of charts is not really noticable with your product. Congratulation.
Thanks and best regards.
Guido Engels"
Read a 1000 mile sea test of SeaClear,OpenCPN, Polar Navy and Google Earth..compared and tested