Admiralty Leisure Charts and Leisure Chart Folios
Admiralty Leisure Charts:
Important Note: From late 2010 much of this range is being discontinued, check with an Admiralty Dealer.

The Leisure Editions' series consists of Admiralty paper charts, specially selected and printed for the leisure user. Re-published with a new edition everytime the standard chart on which it is based is updated, the range is perfect for small craft mariners who don't have the requirements, or the space, for a large number of paper charts.


Leisure Editions contain exactly the same information as standard Admiralty Charts, but are printed on High Wet Strength paper, specifically designed to absorb less water and stand up to more rigorous use. Those used to using the heavy cartridge paper of the standard Admiralty charts will find that these are exact copies but on shinier cheaper paper.


The back of each chart contains a wealth of highly useful data including Coastguard, Radio, environmental and weather info, along with IALA Maritime Buoyage System Data. In addition, each chart includes a copy of the IMO table of Life Saving Signals. Carriage of Admiralty Leisure Editions satisfies MCA Regulation V/29 relating to leisure craft.

To aid storage and use, Leisure Editions are folded to a smaller, more convenient size than standard charts (about the same size as an OS Map), and are presented in a waterproof plastic wallet.

Coverage

Leisure Edition chart coverage is extensive and includes most areas of UK coastline, from the Irish Sea and Bristol Channel, up to Liverpool, Holyhead and the Firth of Clyde, and back down to the Solent, the South Coast of Devon and Cornwall, the Isles of Scilly, Jersey and Guernsey. Coverage also stretches as far as the north coast of France to include Normandy, Calais and the English Channel.

Admiralty Leisure Editions retail at £16.35

Find Leisure Charts, use the interactive chart finder from Todd Charts



Admiralty Leisure Chart Folios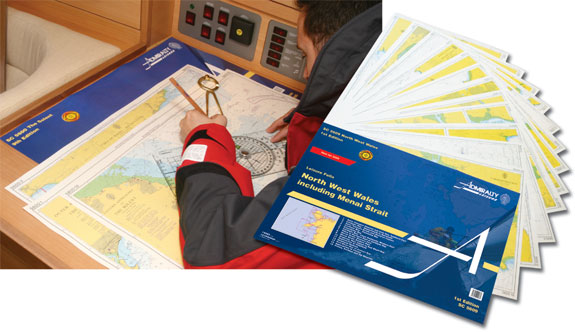 These folios are the nigh on perfect selection for the small craft boater who has the luxury of an inside chart table
Each folio contains on average seventeen A2 sized charts, printed on heavy weight chart paper. They are absolutely ideal for the smaller Chart table found on most yachts and motorboats, and they come packaged in an attractive plastic wallet.

The UKHO's team of compilers use first hand experience and localised knowledge to select the most appropriate chart coverage and scale for a particular area and recompile it into a handy series of individual charts. Each folio chart is compiled using the same exacting standards and highly reliable data as that used to produce standard Admiralty nautical charts and publications. The number of charts in each folio and the careful selection process ensures that these Admiralty Small Craft Folios represent excellent value for money.

Coastal areas, slipways and racing marks are all clearly marked, in addition to harbours, marinas and pubs – perfect for the leisure cruiser. Each folio contains information on Tides, Radio Services and Symbols and Abbreviations on the reverse of specific charts. In addition, each folio includes a copy of the IMO table of Life Saving Signals. All Folios are kept up to date via the online Leisure Notices to Mariners service, making updating an effortless task.

Leisure Chart Folio users range from leisure yachtsmen, dinghy and motor boat cruisers to professional mariners and ocean racing skippers. As well as knowing that they are using the premier product of its kind, users can take assurance in the fact that Admiralty Leisure Chart Folios are produced by the same people that have been providing first class nautical charts and publications to the Royal Navy and commercial mariners worldwide for over 200 years.
Most popular yachting areas worldwide are covered by these cost-effective and attractive folios.