NEW- 10 inch tablet plotter-for members
Teclast tablets have all gone and we can't get them anymore...So we've searched around and found these as a replacement...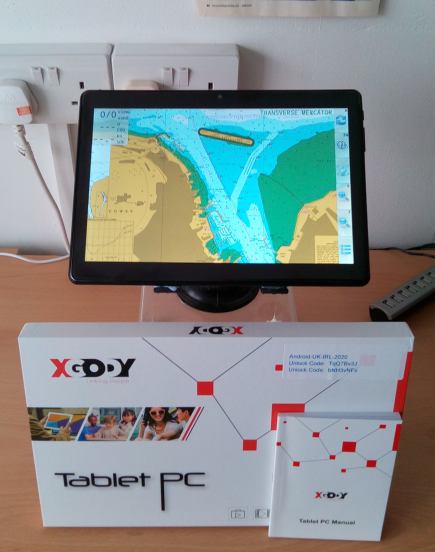 These seem like a good tablet to use as a chartplotter.
From our tests here, these XGODY tablets will do the job well. We're not particularly looking for something with mega specifications either.. we're looking for something that will perform well as a planning and navigating device. Very high screen resolution is not an advantage, lower res screen make all the controls look bigger, hence easier to use in real life.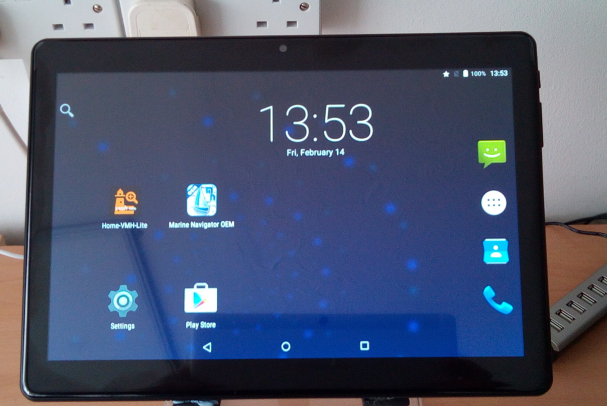 All you really need to know is that it runs Marine Navigator plus the charts perfectly, with high speed rendering of the images.. and that it has a great GPS. It has an 10" 800 X 1280 screen, big and crisp enough for plotting routes PLUS real time navigation on board. This tablet is not full of bloatware. The only minus point with this tablet, is that the battery life is not the best we've seen. 4 hours odd with charts and GPS on. Solution: Just keep it plugged into 12v source via the cigar lighter adapter provided..simple. With the ability to use away from the chart table when required..
A particular feature we've been testing thoroughly is the GPS. It locks on quickly on the boat, but more importantly, it registers low speed movements accurately in real time. So when you're sailing along very slowly, your track across the charts will be accurate. We've often found that devices with SIM card capability have better GPS's in them. (... this tablet has 2 SIM slots, so could be used for 3G internet..weather forecasts, harbour info, calls and texts. Only if you want..does NOT need internet to work )
NOTE: You DO NOT need internet to use this as a chartplotter, all is pre-loaded and turn key. Works mid ocean..
We fit the Marine Navigator OEM app (fully AIS compatible, not just a trial), plus the 2020 chartset.. with a free update in 2021 by download.
No need to get involved with Google or their playstore at all. But it's there if you want..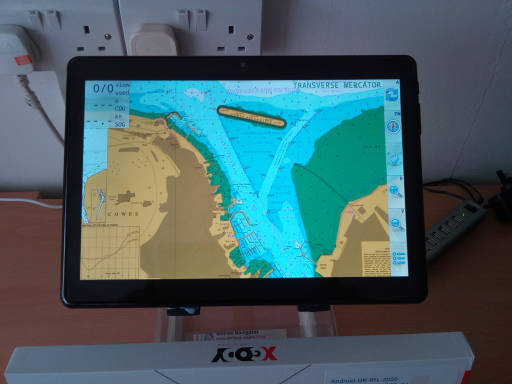 This is for those who just want to buy something that you can switch on, and that works.. no messing about. NOTHING ELSE NEEDED,OR TO PAY.
Completely offline plotter, needs no internet to work.












This is suitable for chart table/bulkhead use inside the boat.. not waterproof.



All these tablets come 12v chargers. But NO mains charger. Simply use any mains USB charger up to 2A power
Optional free PAYG SIM card if you want 3G internet & calls/texts away from the shore.
Plus as always WE offer a 30 day "No Quibble" money back guarantee.. PLUS our usual 6 months guarantee on the tablet.



In Stock NOW for VMH members only.
10" Tablet £129.50 with UK/Ireland charts
10" Tablet £145 with UK & Near Continent charts
10" Tablet £165 with "All" charts
Add a FREE GiffGaff SIM card fitted to this tablet by us.

You can't buy from this page... Logged in members go HERE to buy one
(Non members..try London Chartplotters. They sell to all, have a good reputation, AND are a trade customer of ours.)
Technical Spec:
Model : XGODY TB02-1+16GB (100% NEW)
Displaying Screen : 10.1 inch HD IPS , G+G Arc Screen
Resolution : 1280*800(Use different Software test may a little different, if any question, please contact us first)
CPU : MT6580 A7 Quad-core
GPU : ARM MALI-700MP2
Memory Size-RAM : 1GB DDR3
Memory Size-ROM : 16GB ROM internal storage+ tablet storage+ system used some storage ( supports Micro-SD card )
Operating System : Android 7.X Nougat
GSM/WCDMA WCDMA: 2100MHz
GSM: 850/900/1800/1900MHz
Camera : Built-in Dual Camera, Front 2.0MP, Back:5.0MP
WiFi : IEEE 802.11 a/b/g/n
Bluetooth : Bluetooth 4.0
G-sensor: YES
OTG: YES
FM: YES
GPS : YES
Play Store : Yes,
Battery : Built–in 3.7V Li-ion Rechargeable 5000mAh
Working Time : Tested 4 hours with charts showing and GPS on
Charge Time : 2-3 hours, Sometimes can only charge to 99%
Interface : 1*Micro USB
1*Audio Output 3.5mm
1*TF Card Slot
2*Standard Sim Card Slot
Size : 243mm x171mm x10mm
Tablet Weight : 530g
Color : Black
Package : 1 x Tablet PC
1 x USB Cable
1 x User Manual
NO MAINS CHARGER SUPPLIED. Charge from any USB power source up to 2A
12V Cigar lighter charger supplied