Getting Started 5. Loading a Polar for your boat

This article deals with loading a polar diagram for your sailboat into qtVlm. You will see later why qtVlm needs a polar and a grib.. in order to prepare a route based on weather, tide and your boats performance.
A polar diagram is an electronically readable summary of how your boat behaves at various points of sail at different wind strenghts. (Many of us sail smaller bilge keel boats that go sideways just as well as forwards..and don't go to windwards very well..if at all !)
qtVlm allows you to load up a polar.. if you don't have one for your own boat, you can choose from a large and growing embedded list. You could choose a boat profile similar to yours, then you can fine tune that profile with various parameters. For cruising types you could choose something similar then downgrade the windward performance significantly.. as you don't want to be sailing on your ear at all if it can be avoided !
Setting a polar in qtVlm. Boat >>> Boat(s) Settings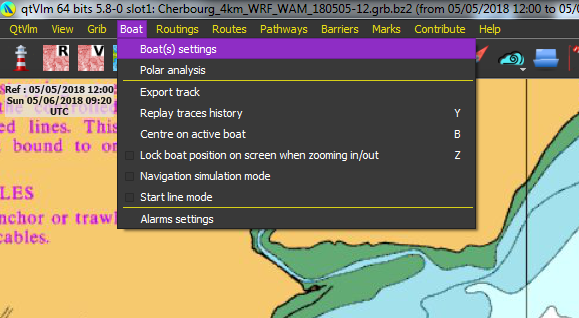 Set parameters..give the boat a name, and either import your polar if you have one..or go to the polar server and choose one from the long listings.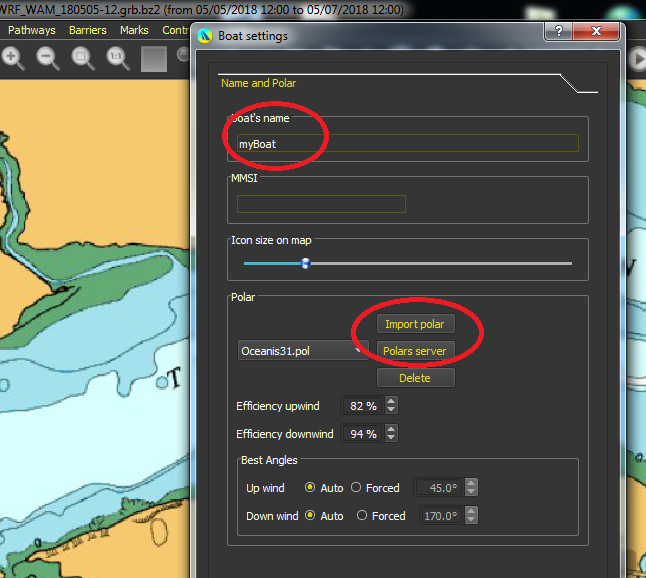 If yours isn't listed there, choose something similar: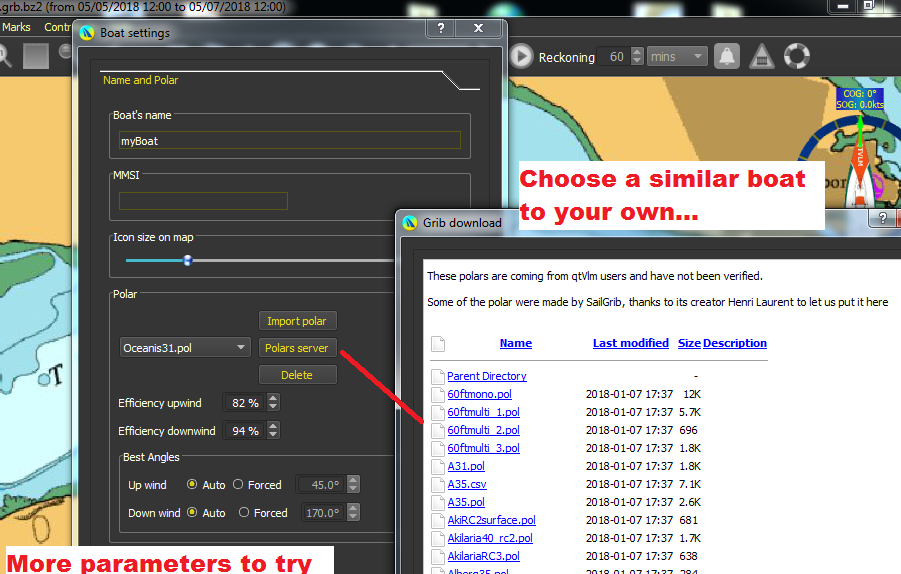 In our case we've chosen an Oceanis 31, and DETUNED it's upwind efficiency to 82% of max. Overall the best plan is to choose similar boat and de-tune it to suit your style of sailing. Many other parameters can be set..including at what point you give up and start your engine..
Anyway, we'll soon see how qtVlm can use the parameters you've entered, plus the loaded gribs to make an efficient route.
Coming soon: qtVlm made routes using your parameters.
For those with Windows machines (who may also want qtVlm on Android or iPad) UNIFIED CHARTS from mid April 2018 also support qtVlm (as well as the already supported programs and apps.) For those with Macs, Linux, RaspberryPi etc.. We now make CROSS PLATFORM charts that'll work on anything that qtVlm will run on. CLICK HERE