Getting Started 6. qtVlm prepares route (+ simulator)

OK, in the last couple of exercises, we've loaded a valid grib, and loaded and maybe modified a polar for our sailboat. Now we'll see how qtVlm prepares a routing using this ino..followed by a simulation.
Note, for this exercise we planning a cross Channel route from Needles to Cherbourg.. away from land features. We suggest you try this first..a simple sea crossing, with no irritating shallows or structures in the way !
Firstly, drag and drop your boat into the start position, next move cursor to off Cherbourg, click and "Create Routing"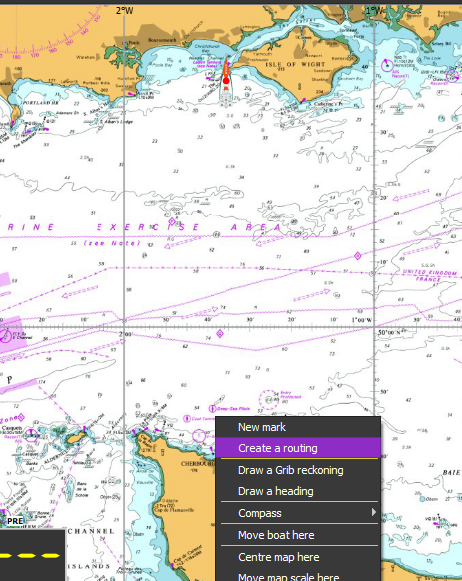 You will be given option boxes, just default OK to all of them. You will see qtVlm at lightning speed testing loads of possibilities for this trip... and eventually settle on one.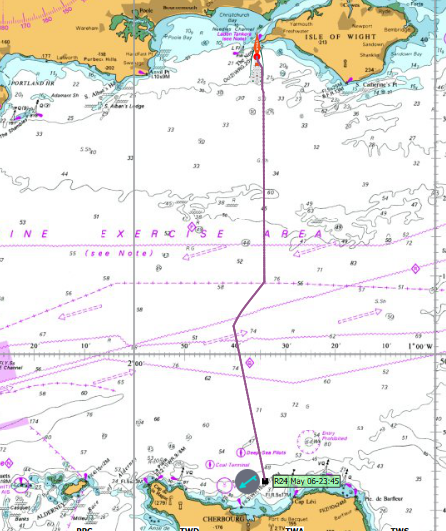 Recap:

1. Drag and drop boat to starting position
2. Place cursor on destination of leg
3. Click and create routing
NOW the interesting bit: Simulation Mode. Check the box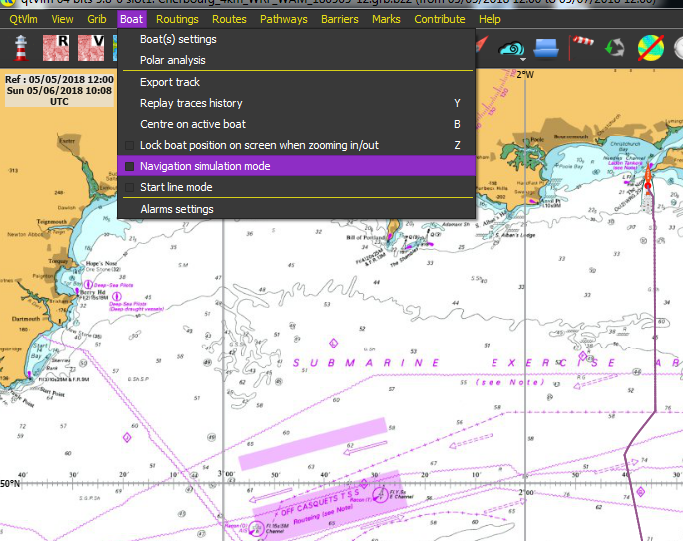 Then as if by magic things start to happen. Quickly point your boat in the direction of the prepared route. Use the slider under the boat on the RH top side as shown. You will start following that route, speed will be shown. You can turn the grib images on or off, and choose what you see, wind currents, etc. If online real AIS targets will appear and move.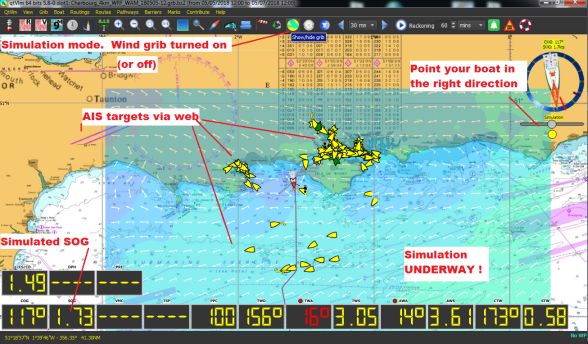 So now your imaginary boat is following a computer generated route using boat performance parameters (set and maybe modified by you)..plus the wind and currents information provided by the grib. Plus real AIS targets are moving around on the charts.. these need to be avoided in real time.
If you've followed the last 3 exercises one after another, you will now see the planning possibilities here..
To come later.. qtVlm routes around charted places you DO NOT want to go; Barriers



For those with Windows machines (who may also want qtVlm on Android or iPad) UNIFIED CHARTS from mid April 2018 also support qtVlm (as well as the already supported programs and apps.) For those with Macs, Linux, RaspberryPi etc.. We now make CROSS PLATFORM charts that'll work on anything that qtVlm will run on. CLICK HERE