Tidal Streams App - on a portable USB



NOT AVAILABLE AT PRESENT. Experiencing problems with W10
A simple offline dynamic tidal stream planning tool

on a USB ! Buy and keep.
No installation required, run it directly from the USB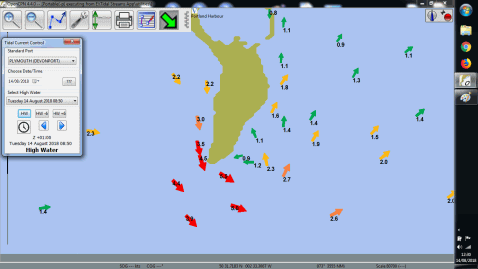 The utility (Plug-in) uses tidal data from 14 standard ports to calculate the streams at over 1900 tidal diamonds, with Dover being responsible for the huge majority of them. Current time can be used, or dates and times selected. Springs and Neap rates are automatically calculated hour by hour dynamically and displayed on the base map.
Note: This utility will NOT plan your passages for you, nor work out courses to steer, nor calculate best times to leave. YOU use the dynamic graphical info it supplies to help work up a passage plan.

Portable ...Use on any Windows machine Vista, 7, 8, 8.1, & 10 NOT for XP or older
Use in a separate window from other navigation programs, to help plan passages using the tidal streams. Using it as a stand alone with the base map will quickly give you the tidal stream information you need.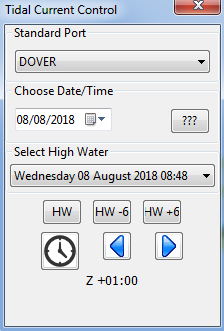 .
.
.

This controls the standard port used in the calculations. DOVER controls the huge majority of the arrows. Use the drop down menu to see what other ports are available.
Choose a date and time to examine

OR use the clock icon to see whats happening NOW.

Use the buttons to scroll forward and back in time.









The main mapping screen can be dragged around and zoomed in and out to get to get the view you need. There are no charts in this, instead there is an underlying map. This allows the tidal stream arrows to be displayed clearly on a plain background.
Once you have tried it out a bit, experiment with changing the Standard Port used to control the arrows. In some areas a control port OTHER than Dover will be better...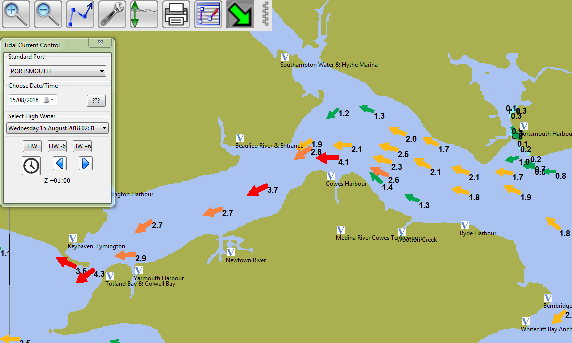 In the case of the Solent, Portsmouth is a better choice than Dover. But in general, esp. for passage planning, Dover controlled arrows are the choice.

1 2 3 4 5
Other OFFLINE Features
Button 1: Make a route across the screen based on the streams with multiple route points. When finished RIGHT click the last route point and choose "End"
Button 4: Use to edit, make notes, and name your route. Then EXPORT your route in .gpx format. Save it somewhere OTHER than on the USB dongle. After that it can be deleted from the screen
Button 3: Toggling this on will show the tidal HEIGHTS at locations covered. RIGHT clicking these icons will give a tidal curve graph for that location.
Button 5: turns the streams feature on and off
Print Button: Click to make a print or pdf of what's on the screen.
Bonus ONLINE feature: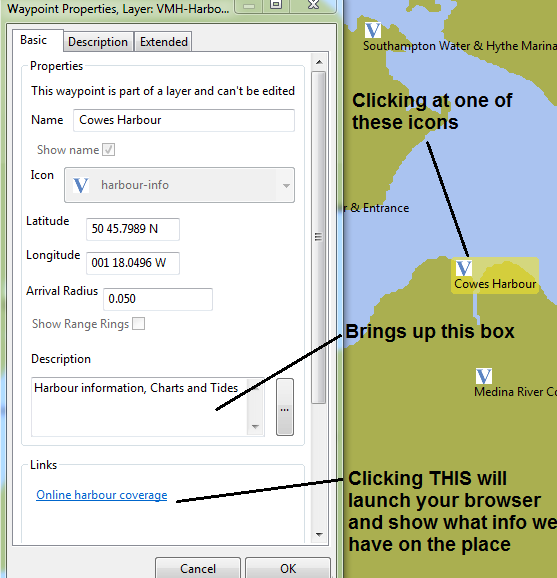 Also in this utility, geo-reffed links to VisitMyHarbour's pilotage coverage of 300+ harbours(only if online)


Quick summary:
Comes on a USB with A5 booklet




Windows use only (but not on XP)




OFFLINE Tide planner streams and heights only, no charts. This is not a chartplotter.




Portable, runs direct from the USB, use on multiple machines



Buy and keep, does NOT expire


UK only, inc Channel Isles and Irish Sea




Some areas have more detailed coverage than others.




But good for all UK coastal passage planning.


NOT AVAILABLE AT PRESENT. Experiencing problems with W10
Price £14.99 plus P&P . 30 day no quibble money back guarantee, just send it back if it's not what you want.


Background info:

It is the licensed horizontal tidal streams data you are paying for, and it's protected by the USB.
It uses the free OpenCPN open source software, which has been configured to run as a "portable" application. (ie: needs no installing and will not interfere with any OpenCPN installation you may already have). It has not been altered in any way, and as a lightweight stand alone it's very fast. "Plugins for OpenCPN are third party feature additions that expand the functionality of OpenCPN into those niche areas" The Tidal Stream "Plug in" has been developed by Mike Rossiter, using official UKHO horizontal tidal data licensed by VisitMyHarbour . It uses non official vertical tidal data (heights) embedded in OpenCPN
"It must not be used for navigation purposes, and mariners are advised to always consult official tidal stream information"