VMH-Lite site now ready...
VMH-Lite... on yer' phone !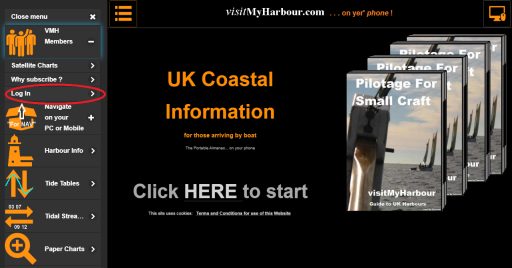 Works GREAT on big screens too, click the image to try it.

It's been lurking around for a while in it's demo mode. Now we can take subscriptions.

This is designed for those who use their phones, real time, on board... To gather useful information about the next harbour to visit, weather, tides, etc. But it's also a useful alternative to the main VMH site, and showcases remarkable seamless raster charting technology, with easy image driven menu systems. This site is UK/Ireland centric only.
So, the demo version has everything working.. but the images are defaced with DEMO. The subscribers section is not defaced. The most exciting thing for us is being able to present VisiCharts (in 2D) with no need for Google Earth. Try zooming in and test the variable transparency slider..


Try 2D VisiCharts on phone OR desktop Click HERE
Yearly subscriptions to this site are £7.99 (instant access available) Click HERE
OR
£2.20 for members of the main VMH site (free trial till December). LOGGED IN members click HERE
Subscriptions are only available by Direct Debit to customers with a UK Bank Account at present. We can't handle subscriptions by card or PayPal. Direct Debits are processed for us by Go Cardless.